This is a request from one of my readers long time back and I am really sorry for posting it so late. Basmati rice has a nice taste and flavor and is preferred for
Biryani
,
pulao
and many
rice preparations
. Today we will learn 4 ways of cooking basmati rice.
1. How to cook Basmati rice in pressure cooker
Ingredients needed
Pressure cooker
Basmati rice – 1 cup
1. Wash basmati rice well to remove all the starch and soak it for half an hour.
2. Drain the water completely.
3. Add water in the ratio 1:2 ( ie) For 1 cup of rice, add 2 cups of water and pressure cook for 3 whistles and switch it off . This method is when you cook rice in a vessel inside the cooker.
4. When the pressure subsides, open the cooker and fluff the rice gently with a fork so that the grains do not break.
5. When you cook directly in the cooker, once the water boils, simmer, close the cooker and cook without weight (Take care not to burn the rice).
Use it for any rice preparation .
For more details on how to use the pressure cooker for cooking rice, check out my earlier post on
How to cook rice in pressure cooker.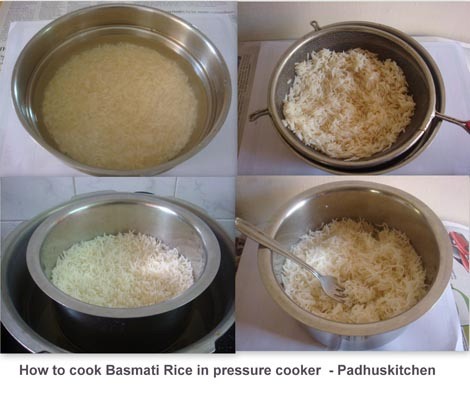 2.How to cook basmati rice in a pan over stove top.
Things needed
Basmati rice -1 cup
A pan with a lid
Step 1 – Wash, soak rice for 30 minutes and drain the water completely.
Step 2 – Bring 2 cups of water to boil. Add drained rice.
Step 3 – Keep the flame in low and close it with a lid. Let it cook
Step 4 – Once the rice gets cooked, switch off the flame and let it sit for 5 minutes.Then open the lid and fluff the rice with a fork .
Rice is ready to be used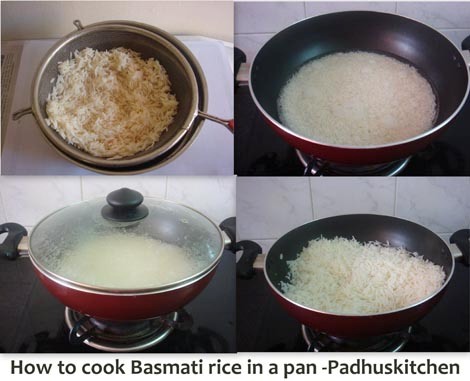 3.Rice Cooker method
Wash, soak rice for 30 minutes and drain the water. Add 2 cups of water to 1 cup of rice in the vessel that comes with the rice cooker and switch on the rice cooker. It will switch off automatically once done or else you switch off the rice cooker once the rice is cooked.
4.Cooking rice with excess water over stove top
After washing, soaking and draining the rice, instead of adding correct measurement of water, add more water than required and bring it to boil. Add drained rice, keep the flame low and cook. Once it is cooked, drain the excess water in a colander. Make sure that the water is completely drained before using the rice for any rice preparation.
Note – In case if you are not going to use the rice for any sweet preparation, you can add a little salt and all whole spices in it while cooking to give the rice more flavor.
Hope you found this post useful, meet you all with more interesting recipes.