Are you bored of rice or are you a busy person who does not have much time to spend in the kitchen, then this Vermicelli Biryani /Bath is just for you . It makes a filling and satisfying meal or lunch, if you prepare semiya bagalabath (thayir semiya ) and a raita (pachadi) along with it .Today we will learn how to prepare Semiya Biryani following this easy recipe
Lunch -Semiya Biryani-Semiya Bagala Bath -Mixed Vegetable Raita
How to make Semiya Biryani/Pulao
Prep time – under 10 mins
Cook time – under 20 mins
Serves -2
Ingredients needed
Vermicelli /Semiya – 1 cup heaped
Water -1 ½ cup
Onion – 1
Ginger-garlic paste -3/4 tsp
Green chillies -2 slited
Mint leaves-few
Coriander leaves –few
Mixed vegetables – 1 cup (mix of beans, carrot, peas, potato, cauliflower) (cauliflower and peas are optional)
Chilli Powder – 1 tsp
Biryani masala -1 tsp (available ready made)
Salt as required
For the seasoning
Oil – 1 tbsp
Whole Garam Masala – Cinnamon -1 inch piece,Cloves -2, Cardamom -1, bay leaf -1
Preparation
Heat a tsp of oil and roast semiya till light brown. If you have bought roasted semiya, then you can skip this step.
Cut all the vegetables into medium sized pieces. Steam the vegetables and keep it aside. Do not over cook the vegetables. (alternatively you can cook the vegetables in little water)
Cut onion lengthwise and slit green chillies.
Finely chop coriander and mint leaves.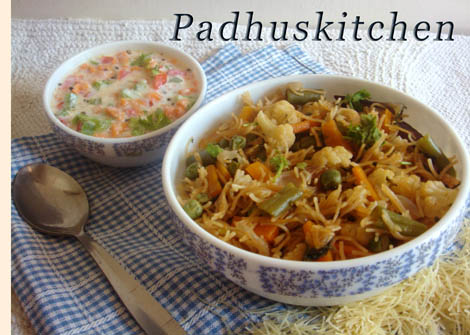 Semiya Biryani
Method
Heat a tbsp of oil, add whole garam masala (the spices), when it splutters, add onion, green chillies and fry till onions turn translucent.
Then add ginger garlic paste and saute for a few more minutes.
Add mint leaves, coriander leaves, chilli powder, biryani masala and saute for a few seconds.
Add vegetables, water, salt needed.When water starts boiling, simmer, add roasted vermicelli and cook covered in low flame till done.Keep stirring now and then to prevent it from sticking to the pan.
Serve hot with any pachadi (raita).
Another method of cooking vermicelli (separately)-
You can cook vermicelli in more water than required adding salt and a tsp of oil .Once cooked, you can drain it in a colander. Then pour cold water on it and use it.
You can add chopped vegetables directly after sauteing ginger-garlic paste, if vegetables are cut into small pieces.
More Vermicelli/Semiya recipes
Lunch #6
Semiya Biryani (this post)
I am sure you will enjoy preparing these for your family. Have a good day!