Summer is here and it's time to think of ways to beat the heat. Summer is also the time when we get delicious mangoes in India. As we get good varieties of mangoes this season, I decided to start the summer special with this refreshing homemade mango ice cream. This recipe is from a free booklet written by the famous cook Chellam, that came along with a magazine. I love this recipe as the ice cream is very creamy and does not have crystals in it. So today we will learn how to prepare homemade mango ice cream following this easy, no cook recipe.
How to make Mango Ice cream (Indian style)
Prep time – under 20 mins
Ingredients needed
Mango pulp – 1 cup
Milk Powder – 1 cup (full fat / full cream milk powder)
Water – 2 cups
Sugar – 1 cup
Fresh dairy cream – 1 cup
Mango essence – 1 tsp
Yellow food color – 2 drops (I did not use it)
GMS – 1/2 tsp
Milk -1/2 cup
Ice cream stabilizer (CMC) – 1 tsp
Preparation
Keep refrigerator settings to maximum.
Blend mango pieces in a blender and take 1 cup of mango puree.
Mix GMS with 1/2 cup milk.
Mix stabilizer with 1 tsp sugar.
Now add stabilizer + sugar mix to the GMS + milk, little by little stirring continuously with a spoon or fork.The mixture will become slightly thick. Keep it aside.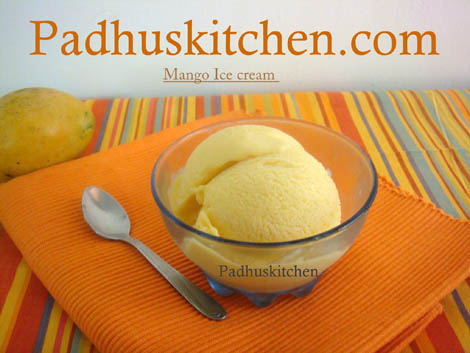 Indian Homemade Mango Ice Cream
Method
Mix water with milk powder well without any lumps.
Add mango puree, essence, food color, sugar and cream to the above and mix well.
Then add GMS and stabilizer mix. Mix everything together well and keep it in the freezer.
Use only aluminium container with a lid for freezing the ice cream mix.( this is done to prevent crystal formation and to get a good texture)
Once it is half set, take it out from the freezer and beat it with a wooden ladle (do not use mixie).
Beat it at least 4 times with a gap of 1 hour for 5 minutes.
After it is set, enjoy delicious mango ice cream.
Note– GMS and ice cream stabilizers are available in all departmental stores. I bought it in Nilgiris,Chennai. GMS (Glyceryl Mono Stearate) and CMC (Carboxy methyl cellulose) are compounds used for stabilizing ice creams. GMS prevents formation of ice-crystals and gives a smooth texture to the ice cream.These are easily available in big departmental stores and super markets in big cities. Hope I have cleared all your doubts.

Fresh cream is available ready made.You can use homemade cream also. Boil milk, cool it and refrigerate it overnight.The next morning, you will find a thick layer of cream on the top.Collect it and keep it in the freezer. Use it for recipes which need fresh dairy cream.
Meet you all with more interesting recipes and tips for summer.