This a very popular and simple Indian dish in which paneer or cottage cheese is marinated in spices and grilled in a tandoor. I have used the oven (grill mode) and the tawa to prepare paneer tikka at home. It can be served as a as starter or as an accompaniment and is one of the easiest of all paneer dishes. Today we will learn How to make Paneer Tikka both oven and stove top method following this easy recipe.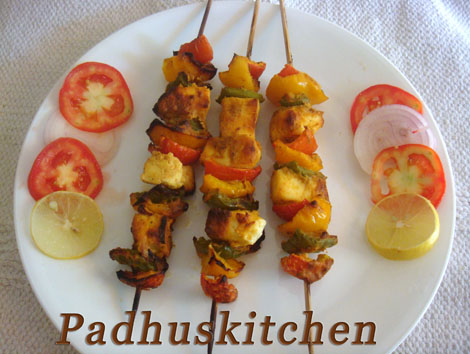 How to make Paneer Tikka-Oven and Stove top Method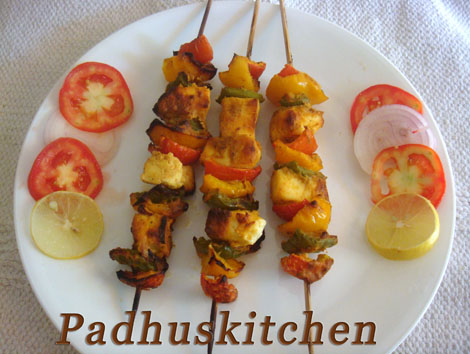 Prep Time : 10 mins
Cook Time
:
20 mins
Serves
:
2-3
Recipe Category
:
Starters-Snacks
Recipe Cuisine
:
Indian
Author
:
Padhu Sankar
Ingredients needed
Paneer -200 grams
Hung curd – 1/2 cup
Cornflour – 2 tsp
Red chilli powder -1 tsp
Ginger garlic paste – 1 tsp
Green Chilli paste – 1/2 tsp
Turmeric powder – a pinch
Garam masala -1/2 tsp
Cumin seed powder -1/4 tsp (preferably freshly dry roasted and ground)
Carom seeds(Ajwain/omam)- 1/4 tsp (optional)
Oil for brushing
Salt to taste
Vegetables
Onion -1
Tomato – 1
Capsicum -1
How to prepare hung curd

Tie the curd in a muslin cloth and hang it over the sink for 2-3 hours to drain out the excess water.
(I used 250 grams Hatson curd to get 1/2 cup of hung curd)
Preparation

Cut paneer into cubes. Peel and cut onion into quarters. Remove the seeds of tomato and capsicum and cut it in the same way as onions.

Keep the bamboo skewers dipped in water for half an hour to prevent it from burning.

You can put holes in the paneer before marinating as it tends to break if it is done after marinating.
In a bowl mix together hung curd, cornflour, red chilli powder, ginger garlic paste, green chilli paste, turmeric powder, garam masala, ajwain seeds, cumin powder and salt needed.


Marinate the paneer and capsicum in it for 1-2 hours.

Method

After 2 hours


Preheat the oven for 15 minutes at 180 degree C.

Arrange the marinated paneer and vegetables including tomatoes in the skewers alternatively. You can use any combination you prefer. Brush it with a little oil.

Now line the middle rack of the oven with aluminum foil, place the arranged skewers, turn the switch to grill mode and grill for 20 minutes (180 degree C) or until the edges of the paneer starts browning.

Remove from skewers, drizzle a few drop of lemon juice over it and serve with thinly sliced raw onions and green chutney. I love it without any side dish as it taste great on its own.

Stove top method or Tawa fried Paneer tikka


Those who do not have oven can prepare Paneer tikka using a tawa-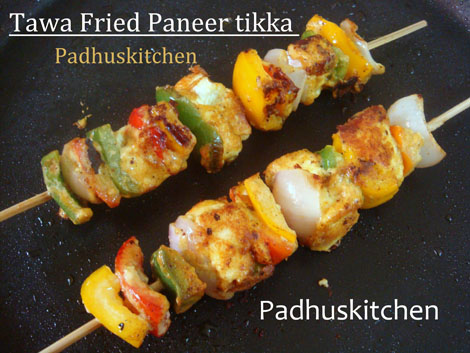 After marinating the paneer, heat a tbsp of oil on a tawa and fry the paneer and vegetables in the tawa evenly until the edges have browned. (You can fry it separately or you can arrange it in skewers and fry it.)



Note

– Do not over cook the paneer as it tends to become rubbery.
While grilling, you can turn the skewers once in between so that the paneer is grilled evenly.(switch off the oven, turn the skewers and then switch on- be very careful while doing this.You should wear a heat proof gloves)
You might like my Paneer Tikka Masala recipe also.
If you like this recipe then please take a moment to like us on Facebook or follow me on Twitter or join me on Google plus to keep up to date with Padhuskitchen.