I always prefer to make fresh juice than preparing lemon squash as I do not like adding chemical preservatives to my juice recipes. This lemonade does not have any preservatives and stays fresh for 2-3 days if refrigerated. Lemon juice has lot of health benefits. It is a good sources of vitamin C which helps in increasing body immunity. Today let us learn how to make fresh lemon juice following this easy recipe.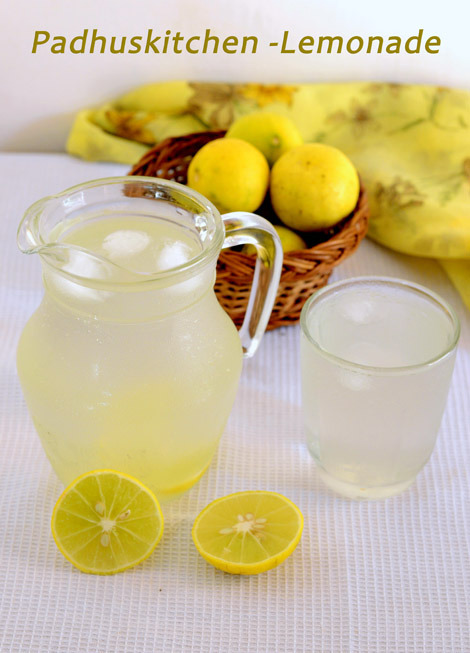 How to make Lemonade
Prep time – under 5 mins
Cook time – under 5 mins
Serves – 3
Ingredients needed
Water – 1/4 cup
Fresh lemon juice – 1/4 cup
Sugar – 1/4 cup
Ice cold water – 3 cups
Salt – a generous pinch
Ice cubes -few
Method
Squeeze juice of fresh lemon, strain it and keep it aside.
In a pan, bring water and sugar to boil. Once sugar dissolves, switch off the flame and let it cool.Chill it after that.
Add lemon juice, salt and cold water. Keep it in the refrigerator.
Serve chilled with ice cubes.(you can freeze some juice in ice tray and add those ice cubes)
Those who do not want to add sugar can use honey instead.
Tips – Do you know that regular intake of lemon juice mixed with warm water and honey, the first thing in the morning can do magic to your skin and hair.(my personal experience)
If you found this post useful, kindly consider linking to it or sharing it with others or like us on Facebook or follow me on Twitter or join me on GooglePlus to keep up to date with Padhuskitchen.