I wanted to bake some easy cupcakes for this Christmas, so decided to bake these Adorable Oreo Owl cupcakes. It is one of the easiest and cutest cupcake and will definitely be a hit among kids. It is easy and fun to make these owl cupcakes with oreo biscuits. It can be made for all fun occasions and birthdays. Myself and my daughter had a lovely time together making these owl cupcakes. Today we will learn how to make Oreo cupcake and Owl cupcake following this easy recipe.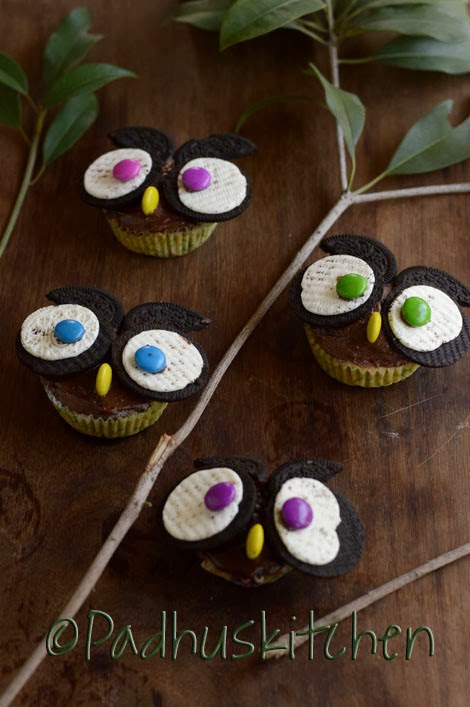 How to make Owl Cupcakes with Oreos
Adapted from here
Makes – 24 cupcakes
Ingredients needed
All purpose flour/maida – 2 1/4 cup
Baking powder -1 tsp
Salt – 1/2 tsp
Unsalted Butter – 8 tbsp (at room temperature)
Powdered white Sugar – 1 2/3 cup (1 cup + 2 tbsp)
Egg white – 3 large eggs (at room temperature)
Vanilla essence – 2 tsp
Milk -1 cup (should be at room temperature)
Oreo Halves with cream – 24
Oreo -20 coarsely chopped or quartered
Preparation

Bring all the ingredients to room temperature.
Preheat the oven to 180 degrees for 10 minutes.
Sieve all purpose flour, baking powder and salt together.
Method
Line cupcake pan or muffin pan with paper liners and place oreo half with cream side up as shown in the picture below.
Coarsely chop 20 oreos, dust it with a little flour and keep it ready.

In a bowl combine together butter and sugar until light and fluffy. (I used electric hand beater)
Add egg white, one at a time and beat well.

Add vanilla extract and mix well. Add half of the flour and mix until well combined.

Add milk and mix until well incorporated. Fold in the remaining flour. (you can use the electric hand beater at low speed)

Add the chopped oreo biscuits and mix gently until evenly incorporated. Do not over mix.

Fill the batter to 3/4 the paper liner and tap the pan gently, so that the batter will settle evenly.

Bake for 18-20 minutes (at 180 degree C) or until a toothpick inserted in the center of the cake comes out clean. After the first 10 minutes of baking, rotate the pan the other way and bake for another 10 minutes. Let the cake cool completely. You should frost the cake only after it cools completely.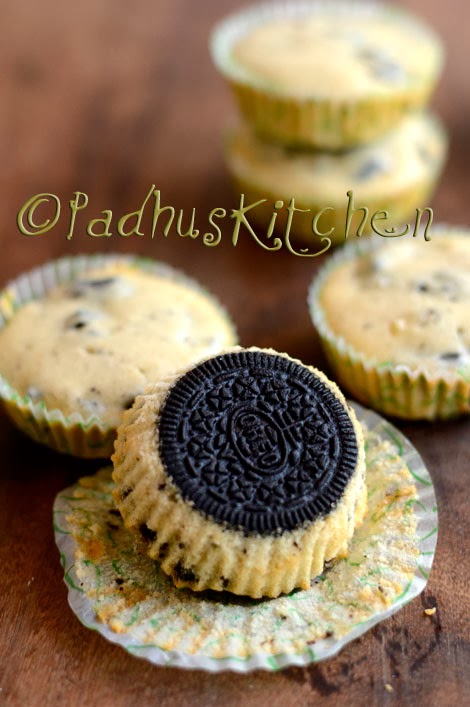 Frosting Recipe for 6 Owls
Butter – 25 grams
Icing Sugar -100 grams
Cocoa powder -10 grams
Milk – 1-2 tbsp milk
Vanilla essence -1/4 tsp

Method
Beat butter until fluffy. Add icing sugar and cocoa into the butter and mix well. Add vanilla essence and milk and beat for a few more seconds. It should be of spreading consistency, so add milk accordingly.
Let's get to the fun part!
To create Owl Cupcakes, separate the oreo biscuit into half and use the cream side for the eyes.You need 2 for the eyes. Apply a little frosting at the back side of the biscuit and stick it on the cupcake.
Break the other piece (without the cream) into half, apply a little frosting at the back side and stick the ears for the owl.
Stick cadbury gems using frosting for the nose and center of the eyes as shown in the picture below. That's it.
Kids could even decorate these cupcakes themselves.
Wow!! Look at the Cute, Delicious, Edible Owl Cupcakes. Perfect for any occasion.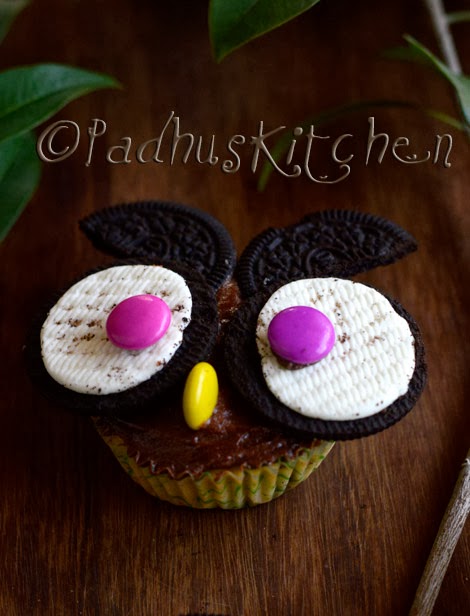 Here's a close up shot of the Owl Cupcake
Note -Beginners do read Baking tips for beginners before trying any cakes.
This recipe makes 24 cupcakes, I halved it to make 12. The recipe calls for 3 egg whites. I poured 3 egg whites in a cup and used half of it for 12 cupcakes.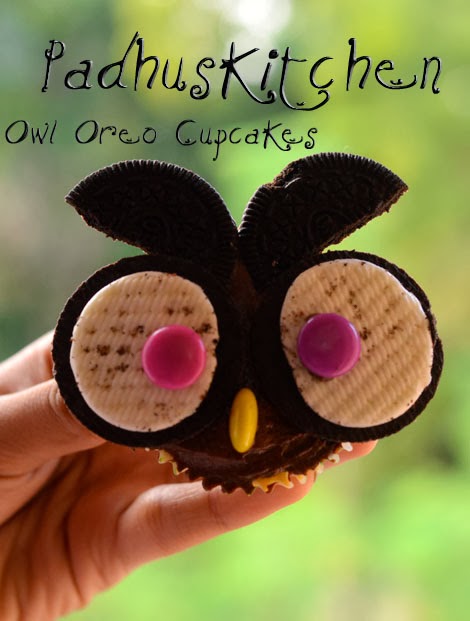 My feathered friends feasting on the egg yolk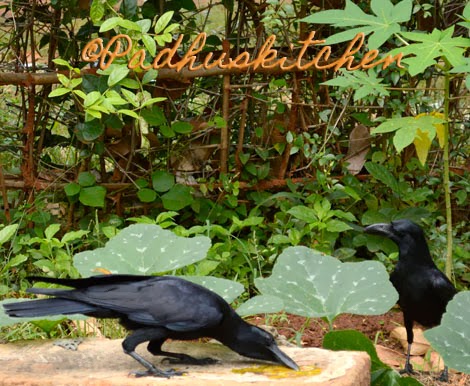 Crows in my garden
Check out more
If you found this post useful, I would really love it, if you pin it or share it with your Facebook fans or Twitter followers or Google+ circles today. All it takes is a simple click on the "pin it" "like," "share," "tweet," or Google+ buttons below the post. It will keep me motivated. Thank you!