Festival is the time when people over indulge in food and do not feel good about it later. Now that Pongal is round the corner, I though this is the perfect time to post this delicious and healthy Foxtail millet sakkarai pongal. It is not only healthy but also tastes good. Today we will learn how to make tinai chakkarai pongal in just 4 easy steps.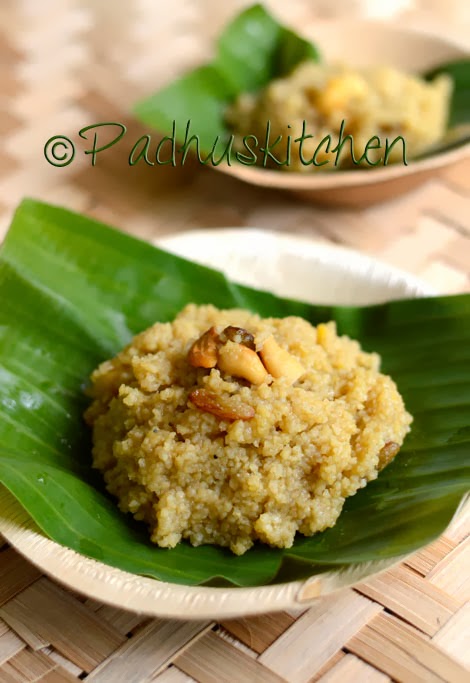 How to prepare Foxtail Millet Sweet Pongal- Tinai Chakkarai Pongal
Prep time – under 10 mins
Cook time – under 20 mins
Serves – 2
Ingredients needed
Foxtail millet – 1/2 cup
Moong dal /pasi paruppu – 1 1/2 tbsp
Jaggery – 3/4 cup
Ghee – 1 1/2 tbsp
Cashew nuts – 5-6
Raisins – 6-7
Cardamom powder – 1/4 tsp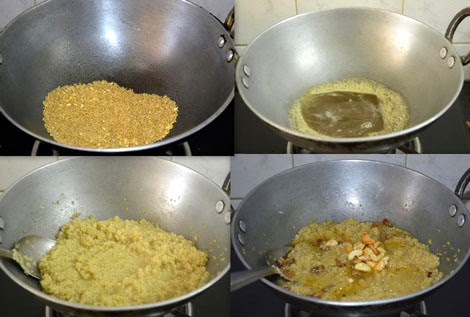 Preparation
Dry roast millet and moong dal together until it is hot to touch.
Dissolve jaggery in 1/4 cup of water and filter it to remove impurities.
Method
Pressure cook moong dal and foxtail millet with 2 cups of water for 4 whistles.
Boil jaggery water for 3-4 minutes on medium flame. Add the cooked millet + moong dal to the jaggery syrup and cook for few more minutes until it is well incorporated with the jaggery syrup. Add cardamon powder and mix well.
Heat ghee in a pan, fry raisins and cashew nuts separately. Add the cashewnuts and raisins along with the ghee and cook for another 2 minutes and remove from heat.
Delicious and healthy tinai sakkarai pongal/ foxtail millet sweet pongal is ready to be served. Celebrate this Pongal the healthy way!!
Note – You can adjust jaggery (3/4-1 cup) according to your personal preferences.
Find a collection of Pongal Festival Recipes
Don't forget to hit the +1, Share button, Tweet button, Pin it button, if you like the post. You can follow us on Google Plus, Pinterest, Twitter, Facebook and Subscribe to RSS Feed to receive latest updates.