Bread pudding is a dessert made with bread. Leftover bread can be make into a delicious dessert. It is a great way to use leftover bread. So next time, if you have leftover bread, try this bread pudding and let me know. Today we will learn how to make bread pudding following this easy recipe with step wise pictures.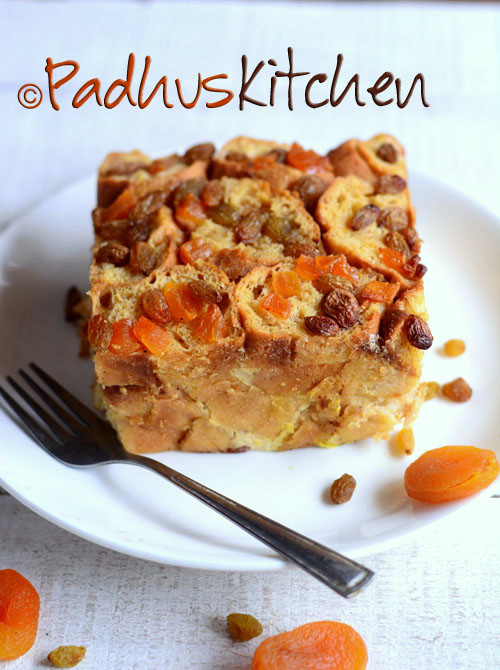 Easy Bread Pudding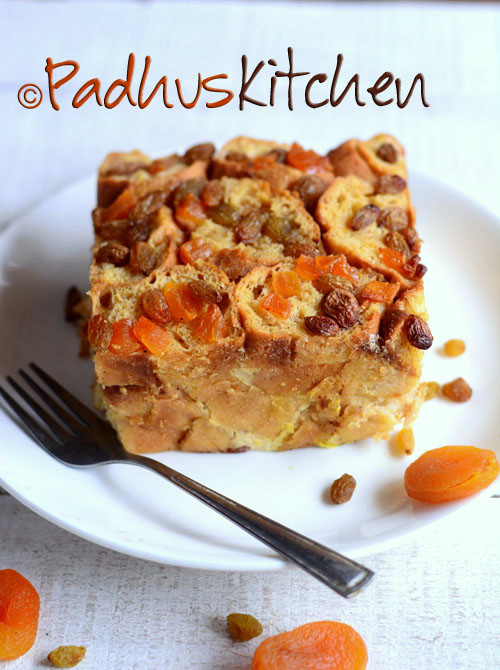 Prep Time : 10 mins
Cook Time
:
60 mins
Serves
:
4
Recipe Category
:
Bread-Pudding
Recipe Cuisine
:
International
Author
:
Padhu Sankar
Recipe Source – Williams-sonoma
Ingredients needed
Baguette (pieces) – as needed
Eggs – 2 (at room temperature)
Brown sugar – 1/4 cup firmly packed
Vanilla extract – 1/2 tsp
Ground cinnamon – 1/4 tsp
Freshly grated nutmeg – a pinch
Salt – a pinch
Milk – 2 cups (at room temperature)
Dried cranberries or raisins – 3-4 tbsp
Powdered sugar for dusting
Preparation

Grease a 4 inch square baking dish evenly with butter.

Cut the baguette into cubes or small bite sized pieces or slices. You can use the crust also.

Now arrange the bread pieces on the greased baking tray. Fill the whole tray with bread pieces.


Method

In a bowl, beat egg for a few seconds.


Then add powdered sugar, vanilla extract, cinnamon powder, nutmeg, salt and beat until well blended.


Add milk and beat until well combined.


Now pour the mixture over the bread slices/cubes.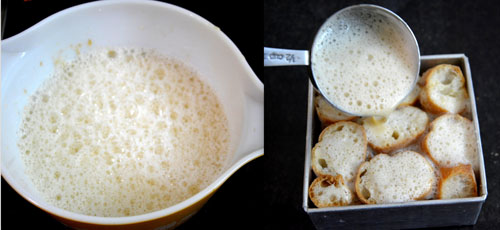 Press down the bread with a spoon, now and then. Let it sit for 20 minutes. But the time the bread pieces will be evenly soaked. In the meantime preheat the oven at 175 degree C for 10-15 minutes.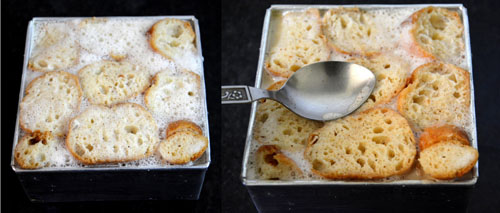 Scatter cranberries and raisins evenly over the surface of the soaked bread and press the dry fruits slightly to submerge. As I did not have cranberries, I have used dried apricots and raisins.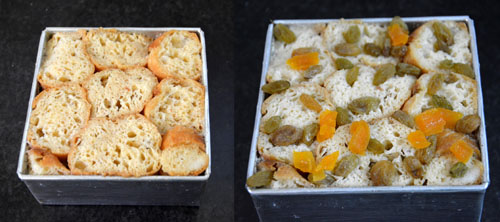 This pudding should be baked in a water bath. Add very hot water to a pan and keep the baking tray in it. The water should come halfway up the sides of the baking tray. Water bath prevents it from curdling or getting burnt as it is a very delicate food.

Now place the tray along with the pan containing hot water in the middle rack inside the oven.

Bake the pudding in a preheated oven for 45-55 minutes or until a knife inserted in the center of the pudding comes out clean.

Remove the bread pudding from water bath. After it cools, you can cut it and serve dusted with powdered sugar.

Enjoy it warm, cold or at room temperature. You can also top it with vanilla ice cream or whipped cream.
Note – If you cannot get baguette or any coarse country loaf, then you can use pav buns.
Check more BREAD RECIPES from Padhuskitchen.