Chopping board/cutting board is used on a regular basis in our kitchens. It is necessary to keep the board clean and free of germs. Find some easy natural tips to keep the chopping board clean and germ free.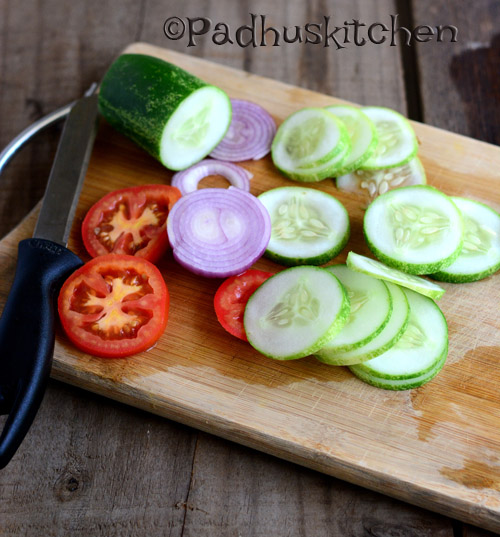 How to clean a wooden cutting board or plastic cutting board on a regular basis
Once you finish chopping, do not leave the chopping board as such. Wash it immediately once your chopping work is over.
After each use, first rinse it, scrub with a mild liquid soap and then wash thoroughly with plenty of warm water.
Wipe it with a cloth and allow it to dry in an upright position. Store it once it is dried completely. This should be done on a regular basis.
Never leave the board soaking in water as the wood tends to warp. Also do not dry it in the sun as the wood will crack.
Tips to disinfect the boards
I personally do not prefer to use harsh chemicals to clean the boards. Once in a week or once in 10 days or depending upon the usage, you can disinfect the boards using natural methods.
Sprinkle a little coarse salt or sea salt all over the board and scrub it with half a lemon. Leave it for 5 minutes.
Then wash it with warm soapy water and rinse thoroughly. Wipe it with a clean cloth and dry it in an upright position.
The citric acid in the lemon helps in disinfecting the board. Salt helps to remove any strain or leftover food.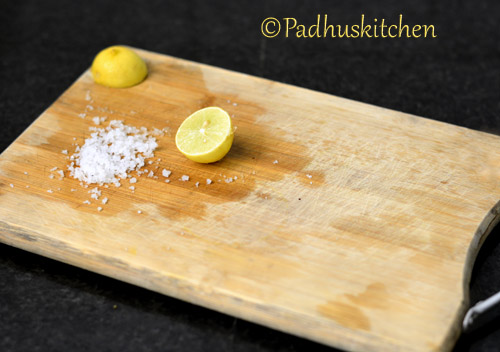 Vinegar also helps to disinfect the board and remove odors from foods like onion, garlic etc.
You can dilute vinegar with equal quantities of water and wash your board.
Note – I use my chopping board only for cutting vegetables as I do not cook or eat meat. In case, if you cook non veg, it is advisable to use separate chopping board for chopping raw meat, poultry or seafood.
Discard old cutting/chopping boards which have crevices, cracks and excessive knife cuts from repeated use.
The tips above are for chopping boards used for cutting only vegetables.
Find more Useful Tips and Beauty Tips
If you found this post useful, I would really love it, if you pin it or share it with your Facebook fans or Twitter followers or Google+ circles today. All it takes is a simple click on the "pin it" "like," "share," "tweet," or Google+ buttons below the post. Thank you!