Avocado sandwich is one of my most favorite sandwich. It is quick and easy to make and also one of the most delicious sandwiches I have had. It is perfect for breakfast or as a snack or any time of the day! Today we will learn how to make Indian style Vegetarian Avocado Sandwich following this easy recipe with step by step pictures.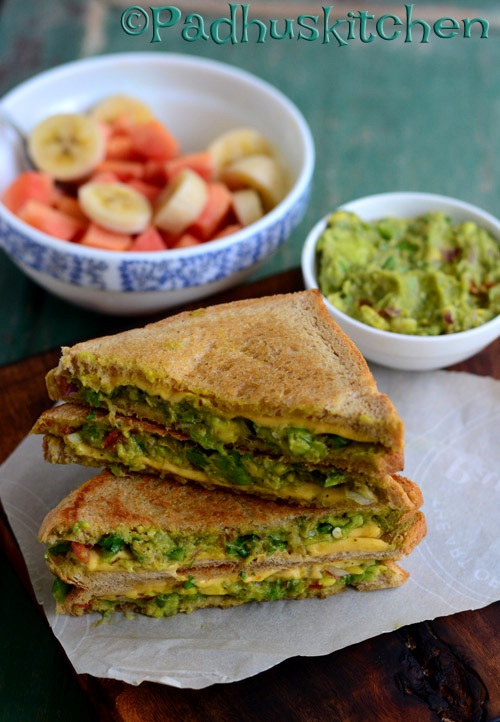 Vegetarian Avocado Sandwich-Indian Style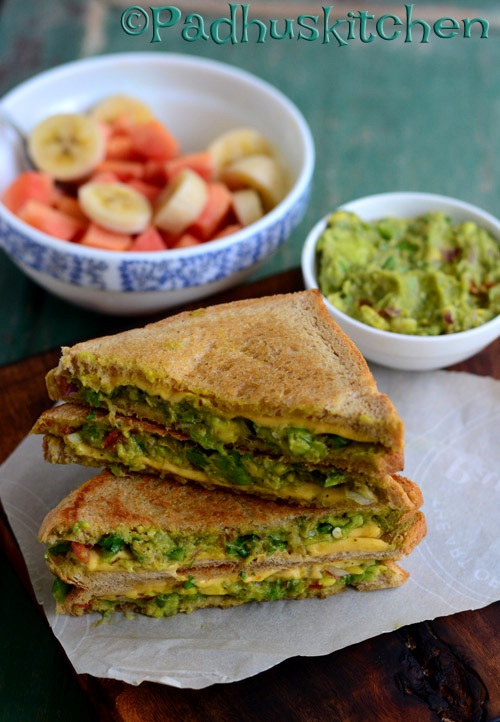 Prep Time : 10 mins
Cook Time
:
5 mins
Serves
:
1
Recipe Category
:
Breakfast-Sandwich-Avocado
Recipe Cuisine
:
Indian
Author
:
Padhu Sankar
Ingredients needed
Bread slices – 4 (any bread)
Cheese Slice – 2
Butter or olive oil for toasting
For Avocado Spread
Ripe Avocado – 1 medium size
Onion – 3 tbsp finely chopped
Green chilli – 1 finely chopped
Ginger-garlic paste – 1/2 tsp
Tomato – 1 small (seeded and finely chopped)
Capsicum/Bell Pepper – 3 tbsp finely chopped
Coriander leaves – 2 tbsp finely chopped
Mint leaves – 3-4 leaves finely chopped (optional)
Lemon Juice – 1-2 tbsp
Roasted Cumin Powder – 1/2 tsp
Pepper Powder as needed
Salt to taste
Preparation

Chop all the vegetables finely.

Cut avocado lengthwise around the seed and open it. Discard the seed and scoop out the pulp using a spoon.

Method

Mash avocado pulp with a fork or spoon until creamy.


Add finely chopped onions, green chilli and ginger garlic paste.


Add tomato, capsicum, finely chopped coriander and mint leaves. Squeeze fresh lemon juice.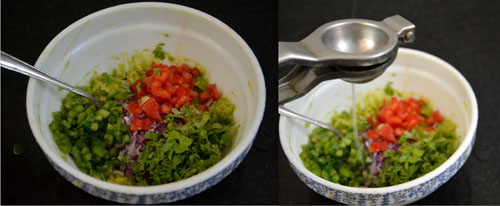 Add salt, cumin powder, pepper powder and mix well. Our avocado spread for the sandwich is ready.


Take 4 bread slices. Spread avocado mixture lavishly on top of 2 bread slices.

Place a cheese slice on the other 2 bread slices. Cover the avocado spread bread with the other bread (with the cheese slice) with the cheese side facing down.


Heat butter/olive oil in a pan/tawa and toast both sides of the bread until golden brown. If you have a bread toaster, you can toast it in that also.

Repeat the same procedure to make more avocado sandwiches. Creamy, delicious avocado sandwich is ready to be devoured. It can be enjoyed as such.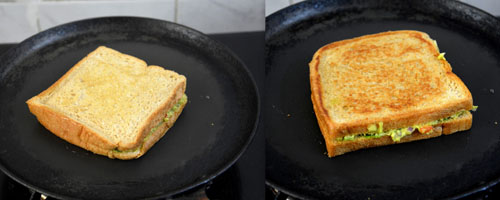 If you love avocados like me, check out more Avocado Recipes.
Tips – If you have overripe avocado, do not discard it. You can puree it until creamy and apply it on your face and leave it for 20 minutes to get soft, supple and glowing skin.
If you found this post useful, kindly consider linking to it or sharing it with others or like us on Facebook or follow me on Twitter or Pinterest or Instagram or join me on Google Plus to keep up to date with Padhuskitchen