When I received the Vaya Tyffyn box, I was super excited. I have never seen such a beautiful, elegant, extremely sophisticated tiffin/lunch box. I remember taking steel lunch box/dabbas to school and college. By lunch time, the food will become cold and of course the problem of leakage was always there.
The
Vaya Tyffyn
has changed all that. It has come up with an innovative solution by introducing an elegant vacuum insulated lunchbox for carrying warm and fresh home-cooked meals.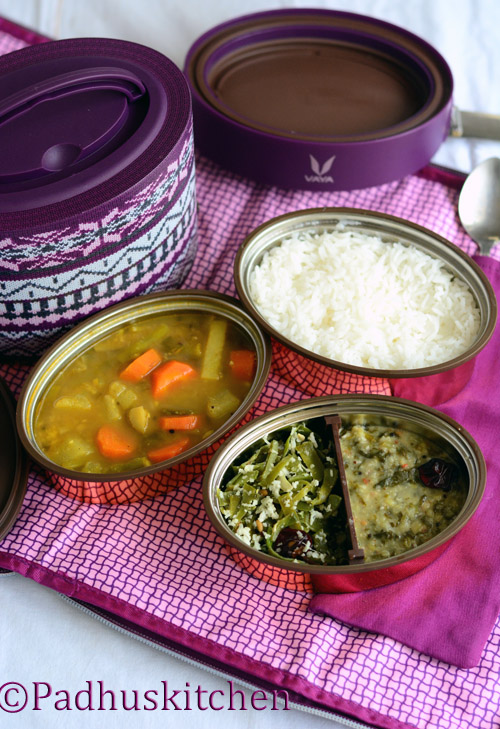 Mixed veg sambar-rice-keerai kootu-broad beans stir fry in Vaya Lunchbox
It comes in three beautiful variants – Graphite, Maple and Wool and in two sizes (1000 ml and 600ml). I choose the Wool variant as it looked very colorful.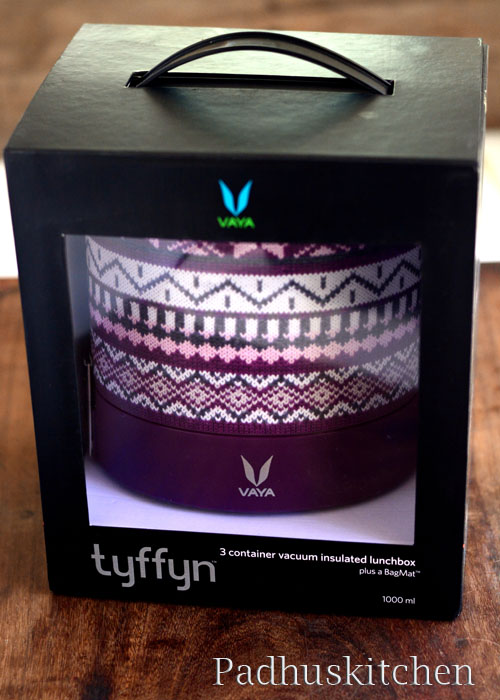 Key Features of Vaya Tyffyn
Vaya Tyffyn is the most advanced thermally insulated lunchbox. It is designed using state of the art technology to make sure your food stays the way you like it, whether hot or cold.
It comes with 3 high quality copper finished stainless steel containers and a Bag Mat/carry bag which doubles up as a table mat.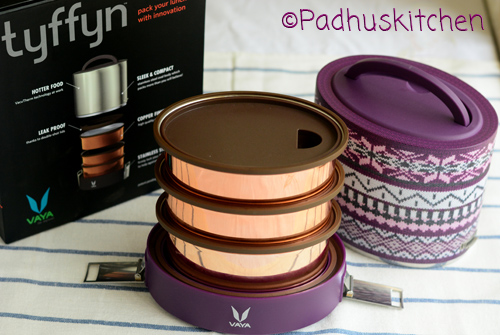 All three variants of Tyffyn is made of the highest food grade stainless steel approved by FDA (Federal Department of Agriculture, USA). The inner containers are also food quality stainless steel material coated on the outside with an elegant copper finish.
The lids are made of shatter-proof durable FDA approved BPA free plastic.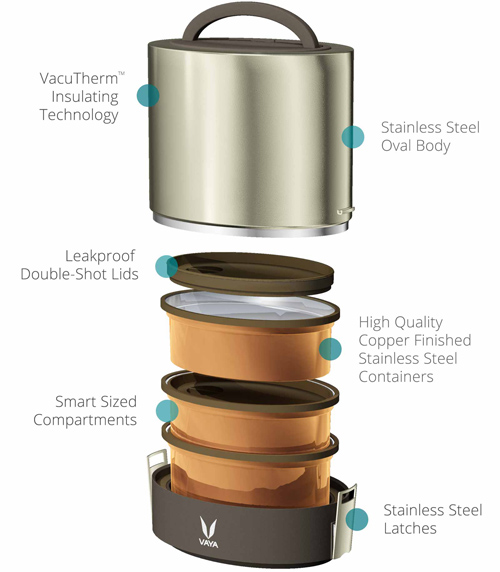 Bag Mat/carry bag which doubles up as a table mat. Easy to carry and compact.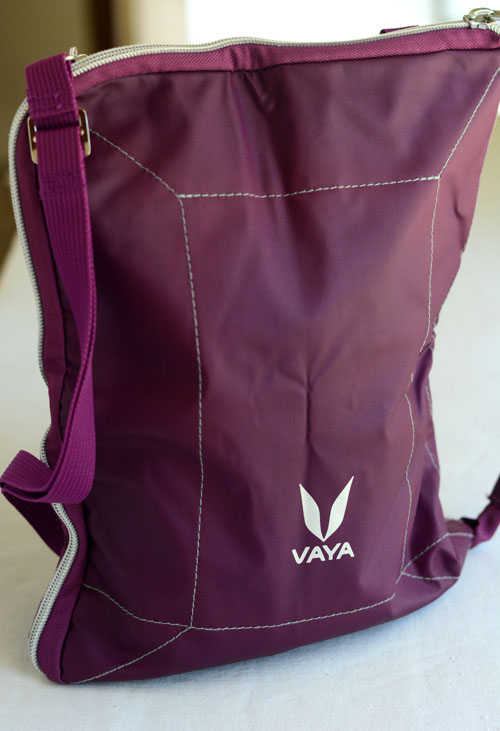 What I loved about Vaya Tiffin boxes
It looks stylish with amazing graphic designs. I loved the wool variant very much.
I personally avoid using plastics as much as possible and particularly for packing lunch. I loved Vaya tyffyn stainless steel containers with copper finish. It keeps food fresh and free from artificial odor. We can avoid taking lunch in plastic containers. I would say it is an environment friendly lunch box.
Keeps food warm for 5-6 hours – As the vaya tyffyn keeps the food warm for 6 hours, we do not have to re-heat food.
I loved the stylish Bag Mat – An incredibly smart shoulder bag that unzips into a table mat. You can pack and carry your vaya lunch box in it and during lunch time, unzip it into a table mat. You have a pouch for keeping cutlery and a napkin also. The Bag Mat is made of a specially coated material, which repels water and food stains. So you do not have to worry about spilling or staining, you can easily wipe it off with a damp cloth. Super easy to clean!
The stainless steel latches and the double-shot container lids prevents messy leaks. I tested it by packing rasam rice and there was totally no leakage. The finger grooves on the container lids, helps in opening the container lid smoothly without spilling.
All the three containers comes with an easy to fix partitions, so you can carry more variety. I tested it by packing gravy on one side and dry sabji on the other side. What was surprising was the gravy (keerai kootu) did not even seep to the other side (have a look at the first picture above).
Vaya Tyffyn (Premium Lunch Box) makes a great gift as it can be carried to work place, school, college, picnics or anywhere outside. It can be gifted to anybody irrespective of the gender. As lunch box is used almost everyday, it makes a wonderful gift and is sure to remind the recipient of the gift-giver.
It comes with 1 year warranty. You can purchase Vaya Tyffyn in their website https://vaya.in/
Vaya tyffyn is now shipping globally also. Check the link below
It is also available in Amazon also.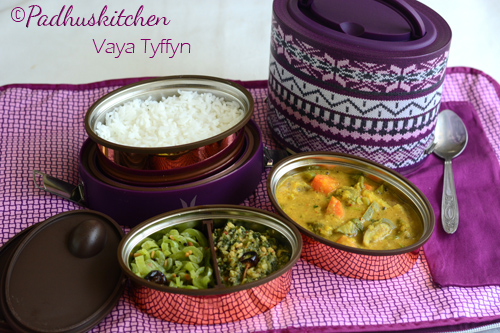 Mixed veg poricha kulambu-keerai kootu-snakegourd stir fry and rice in stylish Vaya Lunch box
What are you waiting for! Go ahead, order yours and enjoy the warmth of home cooked meals wherever you go using Vaya Tyffyn.