As Diwali is nearing I could not wait to share this easy, fool proof mullu murukku recipe. Though I have posted mullu murukku earlier, this is much simpler. You do not have to prepare rice specially by washing and drying it, you can just use the regular raw rice we use for cooking. Today we will learn how to make this super easy mullu murukku following this easy recipe with step wise pictures.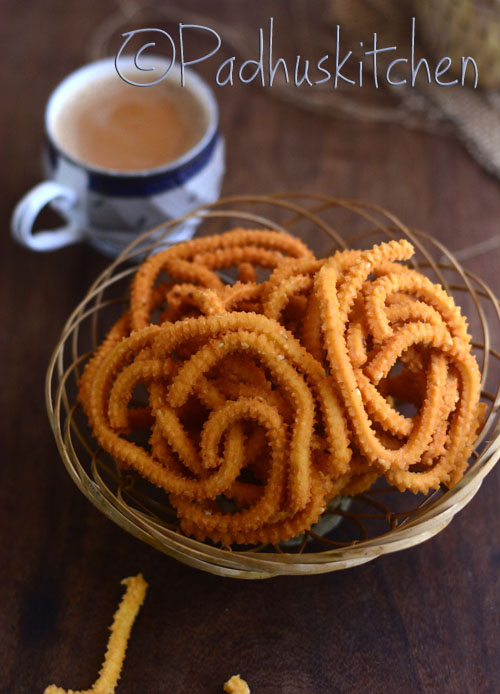 Easy Mullu Murukku Recipe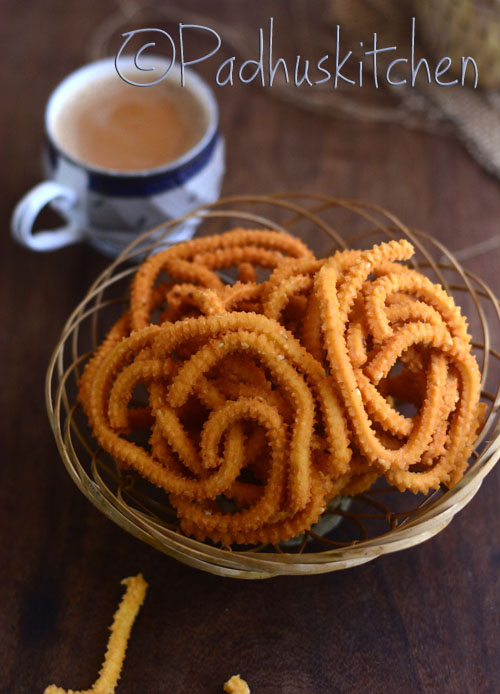 Prep Time : 10 mins
Cook Time
:
50 mins
Yields
:
25 murukkus
Recipe Category
:
Snacks-Murukku-Diwali Snacks
Recipe Cuisine
:
South Indian
Author
:
Padhu Sankar
Ingredients needed
Raw Rice – 3 cups
Bengal gram dal/kadalai paruppu -1/2 cup
Moong Dal/Pasi paruppu – 1/2 cup
Hing/asafoetida – 1/2 tsp
Sesame seeds/ellu – 1 tsp
Butter – 20 grams
Salt – 1 1/2 tsp flat or as needed
Water as needed
Oil for deep frying
Equipment needed
Murukku maker with star disc attachment
Preparation

Dry roast bengal gram dal and moong dal separately until the raw smell of the dal goes. Do not brown it or over roast it.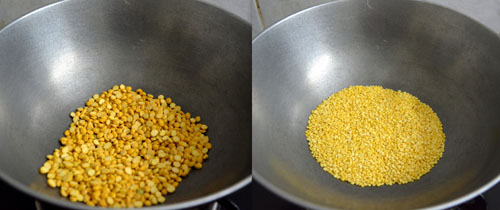 Wipe raw rice well with a kitchen towel and add the roasted dal to the rice. Mix well and get it powdered finely in a flour mill.

Method

In a wide plate, add 4 cups of flour, soft butter and sesame seeds (you can use white or black sesame seeds). Mix well with your finger tips.

Mix salt and hing in a small cup of water.


Add the salted water and more water (little at a time) to the flour and make a soft and smooth dough.

Note – (Total quantity of water I added including the salted water will be around 1 cup + 1/4 cup minus 1 tbsp of water. I did not add the whole 1/4 cup of water. The water quantity may vary depending on the rice variety. This is just an approximate measure for you to have an idea).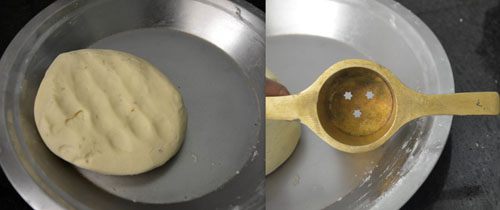 Take the murukku maker, fix the star disc attachment. Grease the inside of the murukku maker slightly with oil.

Take a small portion of the dough, shape it into a cylinder and put it into the murukku maker.


Before that heat oil in a kadai, to see if the oil is hot enough, drop a small bit of dough into the hot oil, if it raises to the surface immediately, the oil is hot enough to fry the murukkus. Reduce the heat to medium.

You can make murukku directly in the oil. But for beginners, grease 2-3 ladles or small plates with oil. Then press the murukku maker in a circular motion and make murukku on the ladle/small plate.


Once the oil is hot enough, drop the prepared murukku into the oil gently. You can add 2-3 depending on the quantity of oil used.

Do not disturb for the first few seconds after dropping the murukku. Then flip it over to the other side.

Cook murukku both sides until it is golden brown and crisp.

Note – (How to find out if the murukku is cooked? – once you drop the murukku, you will hear sizzling noise and find bubbles all over, as in the picture on the left below. Once the murukku is cooked the bubbling noise stops and the bubbles also reduces as you can see in the picture on the right below. This is an indication that the murukku is cooked. The colour would have also turned golden brown. Got it?).


Once cooked, remove it with a slotted laddle and place it on a colander or kitchen towel.

Once it cools completely, enjoy it.


Storage and shelf life – Once the murukku cools, store it in an airtight container. It stays good for a month. Enjoy it with tea time/coffee time or any time of the day.

Note – For those who do not have flour mill or rice mill in your place, you can use your mixie to powder it finely and then seive it. You can half the ingredients and make it, as grinding it in mixie to a fine powder is not easy. It takes time.

This murukku mavu can be stored for a month. You can make half of it and store the rest in an air tight container at room temperature.

If you are making murukku in bulk, make it in batches.
If you want it spicy, you may add 1-2 tsp chilli powder to the murukku mavu.

Enjoy making this easy and fool proof mullu murukku this Diwali 2017. Click the link below for more than 75 Diwali Sweets and snacks.
If you love murukkus like me, check the link below for delicious murukku recipes
Do try it and send me your feedback and pictures, to [email protected]. Thank you for visiting Padhuskitchen.