Radish is an excellent source of vitamin C. Including radish in our diet regularly helps to reduce obesity. It helps in curing constipation and piles and has anti-cancer properties. It has also been found beneficial in problems related to respiratory disorders. Radish can be taken raw in the form of salads and raithas. It is also used to prepare stuffed parathas and sambar. Since I got bored preparing radish sambar, parathas and salad, I tried this recipe for a change. It was in my cookery note book which I had written a few years back. So I do not know the source of this recipe. I have never tried this because I felt radish combined with carrot and cabbage will not go well but to my surprise it tasted great with both rice and roti. So here I am sharing it with you all, so that you can try this protein packed recipe and enjoy with your family.
Ingredients needed
Chopped radish – 1 cup
Chickpea or Garbanzo beans – 1/2 cup
Onions -3/4 cup chopped
Tomato -1 cup finely chopped
Carrot -1/2 cup
Cabbage – handful
Green chilli -1
Turmeric Powder – a pinch
Oil – 2 tbsp
Salt as requried
Spice Powder
Cumin powder – 1 tsp
Coriander powder – 2 tsp
Chilli powder -1/2 tsp
Garam masala powder- 1/2 tsp
For the seasoning
Cumin seeds -1/2 tsp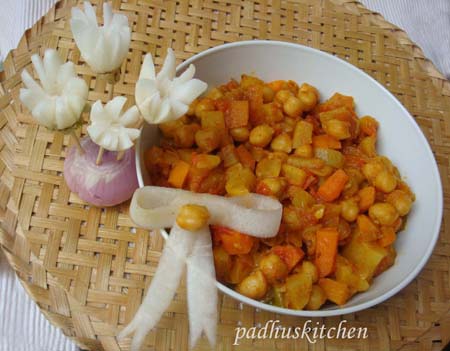 Preparation
Soak chick peas overnight and pressure cook adding a little salt till soft.
Cut radish and carrot into cubes.
Chop cabbage finely.
Method
Heat 2 tbsp of oil, add cumin seeds, when they splutter, add finely chopped onions and sauté till onions become transparent.
Add green chillie and finely chopped tomatoes. Sauté for some more time.
Then add all the vegetables, salt needed and all the spice powder. Mix well and sauté for a few seconds.
Add ½ cup of water and pressure cook for 1 whistle.
Then add cooked chick peas and simmer for 4-5 minutes until everything gets blended well.
Serve hot with rice or roti. Enjoy!
I am sending this recipe to My Legume Love affair -19th helping started by Susan and hosted by EC of Simple Indian Food
If you like this recipe then please take a moment to like us on Facebook or
follow me on Twitter or join me on Google Plus to keep up to date with Padhuskitchen.