For all coffee lovers out there, here is a another cool recipe with coffee to beat the summer heat. Cold coffee with ice cream is sure to refresh you. Today let us learn how to prepare Cold coffee.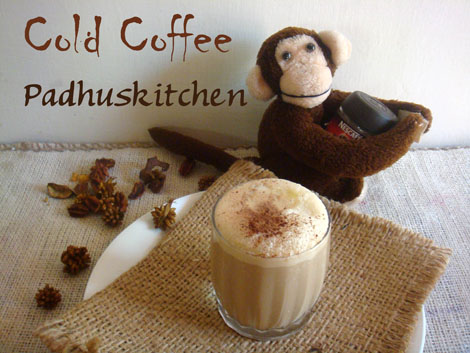 Cold Coffee with ice cream
Cold Coffee with Ice cream
Prep time – under 15 mins
Cook time – Nil
Serves -1
Ingredients needed
Cold milk – 1 1/2 cup
Coffee decoction -1/2 cup or Any instant coffee powder – 1 1/2 tsp
Sugar to taste
Vanilla ice cream – a scoop
Preparation
Powder sugar.
If using instant coffee powder, dissolve it in 3 tbsp of warm water. Leave it to cool.
Method
Blend milk, coffee decoction, powdered sugar and vanilla ice cream till frothy.
Pour it in a glass, garnish with a scoop of ice cream and serve chilled.( I also sprinkled a pinch of cocoa powder to make it more appealing)
Enjoy!