You get varieties of mangoes during summer and I always make thokku this season.I never buy pickles in the market as they contain too much oil, salt and preservatives and they are not as fresh as homemade ones.I am very good in making pickles and learn't it from my mother who is an expert in it. Preparing pickles at home is very simple and any one who has not tried making it at home before can try this easy recipe.Today we will learn how to make South Indian Mango thokku following this very simple mango thokku (pickle) recipe.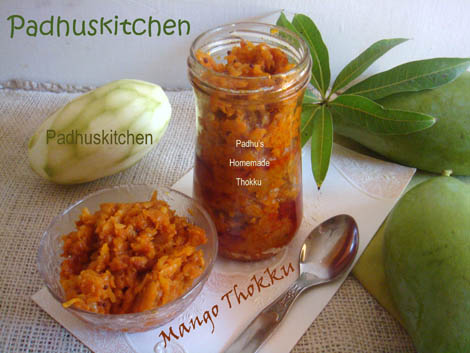 Mango Thokku
Ingredients needed
Mango grated – 2 cups heaped (you can use any sour variety)
Turmeric powder- a pinch
Chilli powder -1/4 cup( I used homemade chilli powder which it not very hot – use less if using store bought powder)
Salt -2 1/4 tbsp or as required
Mustard seeds – 1 tsp
Asafoetida/Hing -1/4 tsp
Fenugreek powder/ vendhayam (dry roasted and powdered) – 1/2 tsp
Sesame seed oil/ gingerly oil -1/4 cup + 2 tbsp
Preparation
Wash mangoes well and wipe it dry. Peel the skin and grate the mangoes using a grater.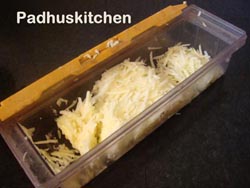 Dry roast fenugreek seeds in a pan (do not brown it) and powder it. Keep it aside.
Method
Heat oil in a kadai , add mustard seeds and hing, when mustard splutters, add the grated mango and turmeric powder and saute nicely for a few minutes. (keep the flames low)
Then only you should add chilli powder and salt.
After adding chilli powder and salt, saute nicely till oil separates.Keep it in low flame otherwise it will get burnt.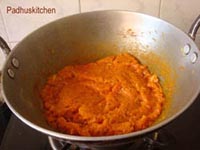 Then add fenugreek powder, mix well and switch it off. Leave it to cool.
Store it in a dry container and refrigerate it. It can be used as a condiment for curd rice, paratha, bread, sandwich, idli etc. It will last a month though in my house, it will be over within a week.
Do not forget to check out varieties of Pickle Recipes in my site.
Tips
It is preferable to use sesame seed oil for making pickles.
I use only powdered rock salt and homemade chilli powder for all my pickles as it is free of additives
Use dry spoon and take only needed quantity from the refrigerator.
Store it in a clean and dry bottle or container.
Do try this and let me know how it turned out. Meet you all with more interesting recipes.
Sending this recipe to Anjali's Cooking made easy with mangoes.