Mango Panna is a popular summer drink in North Indian known for its cooling effects.It is prepared from raw mangoes with some spices and mint leaves. It is an excellent source of vitamin C and is also considered to be an effective remedy for heat exhaustion and heat stroke. It is a perfect drink to beat the intense Indian summer heat.Today let us learn how to make mango panna following our easy raw mango drink recipe.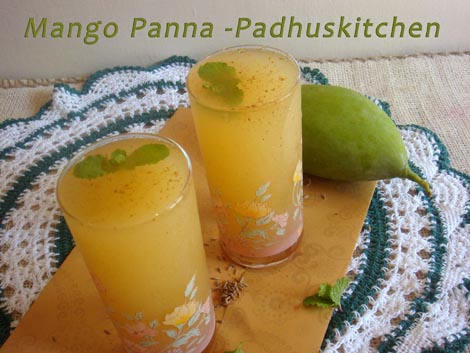 Mango Panna
Mango Panna Recipe
Cook time- under 15 mins
Serves -2-3
Ingredients needed
Raw mango – 1 medium size
Sugar -1/4 cup or as required (varies depending on the sourness of the mangoes)
Roasted jeera powder – 1/2 tsp (dry roast cumin seeds and powder it)
Mint leaves – few
Rock Salt or black salt
Ways to cook mangoes for making mango panna syrup
1.Roast the mango over direct flame until the skin gets charred. Leave it to cool.Gently peel the skin and scoop out the pulp with a spoon. In this method, you will get a smoky flavor to the drink. Keep the pulp aside.
2.Pressure cook raw mangoes for 2 whistles. Leave it to cool.Remove the skin gently and take the pulp. Discard the seed.
3.Peel the skin, cut the mangoes into cubes and cook in little water with needed sugar.
In the second and third method, the smoky flavor will be missing.
Method
Blend the pulp with needed sugar.(I got 1 cup of mango pulp) Skip sugar if you have followed the third method of cooking mangoes.This is the concentrated mix.
Add 3 cups of chilled water, roasted jeera powder, salt, ice cubes and mix well.Garnish with crushed mint leaves and serve chilled.
You can store the thick mango pulp in the refrigerator for 4-5 days and dilute it when required.
Enjoy sipping delicious, sweet and sour Mango Panna.