As mangoes are plentiful this season, I decided to post a very simple rice recipe with raw mangoes.I prepare mango rice in two ways.Today I will share with you one way of making mango rice which is also my daughter's favorite.The other method will be posted soon.You can prepare this with left over rice also.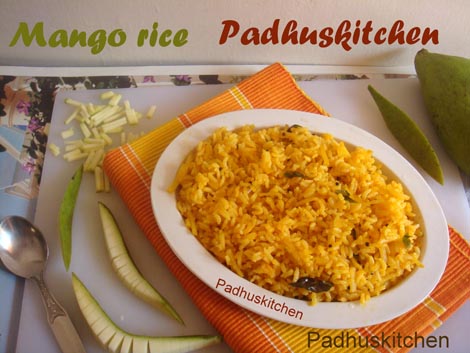 How to make Mango rice (manga sadam)
Prep time -under 10 mins
Cook time – under 10 mins
Serves -1-2
Ingredients needed
Raw Mango – 1 (medium size)
Cooked rice -3 cups
Chilli powder – 2 tsp (my homemade powder is not very hot)
Turmeric powder -a generous pinch
Salt as required
For the seasoning
Sesame seed oil -2 tbsp
Mustard seeds -1 tsp
Curry leaves -few
Preparation
Peel the skin of mango and cut it into small pieces.Discard the seed.
Cook rice is such a way that each grains are separate. After cooking rice, spread it in a plate adding a tsp of sesame seed oil. This is done so that the rice will not stick together. Leave it to cool
Method
Heat oil in a pan, add mustard seed,curry leaves, when mustard splutters, add chopped mangoes, turmeric powder, chilli powder and salt needed.
Saute and cook mango for a few minutes till the raw flavor of the chilli powder goes.Do not over cook the mangoes.
Add cooked rice and mix well.Check for salt. Enjoy with any raita /pachadi,chips or papads.
More Mango Recipes (Indian)
Mango Rabri (payasam)
Mango thokku (pickle)
Raw Mango panna (juice)
Enjoy!