Vinayagar Chaturthi 2012 starts on 19 th September, so here I am with an Ellu Kozhukattai recipe.The outer covering for this is the same as Vella kozhukattai but the inside stuffing is prepared with jaggery and sesame seeds.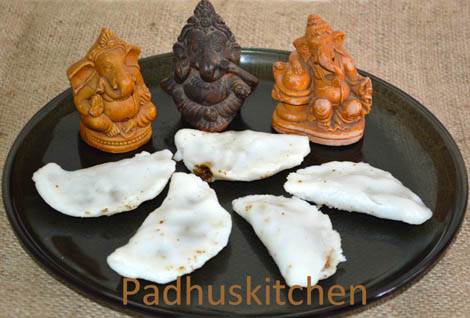 As I have already posted 2 methods of preparing the outer covering for the kolukattai in detail, I do not want to repeat it here again.You can refer it in my Vella kolukattai recipe or Mani kozhukattai recipe.I will wait. Have you referred how to prepare the outer covering for the kozhukattai, shall we go to prepare the stuffing? Ready, Ok let us learn how to make Ellu kozhukattai using this easy recipe
Ingredients needed
Outer white dough (cover)
Method 1 posted in Vella Kozhukattai Recipe
Method 2 posted in Ammini Kolukattai recipe
For the stuffing
Sesame seeds (white or black) -1/3 cup (I have used black )
Jaggery -1/3 cup (grated)
Cardamom powder – 1/4 tsp
Preparation
Wash, clean sesame seeds and dry it well.
Dry roast it until it splutters.Keep it aside
Dry grind sesame seeds, jaggery and cardamon in the mixie for a few seconds.
Make small balls out of it. Now the stuffing is ready.( if you cannot make balls out of it, you can keep a tsp of stuffing)
Now we will make the kolukattais
Take the prepared rice flour dough, knead it well and make even sized balls out of it. Grease your palms with oil, keep the dough and flatten it into round shape with the other hand.
Now keep prepared stuffing or a tsp of the prepared stuffing on it and close it as seen in the picture above.
Repeat the process for the rest of the rice flour balls.
Arrange all the prepared Kozhukattais on a greased idli plate and steam cook for ten minutes or till done.Wait for 10 minutes to cool down and then take it out. Delicious Ellu Kozhukattais are ready.
If you like this recipe then please take a moment to like us on Facebook or follow me on Twitter or join me on Google Plus to keep up to date with Padhuskitchen.