Mysore Bonda is make of urad dal and is a very easy snack recipe.My mother is an expert in making crispy bondas. Today I am going to share with you the secret of making crispy and tasty bondas. This is a perfect tea time snack. Some prepare this even for Diwali. Now shall we learn how to prepare crispy bondas?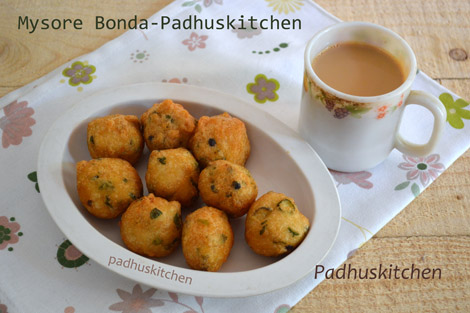 Hot n crispy Bondas with a cup of ginger tea!
How to make Bonda
Prep time – under -30 mins
Cook time – under -15 mins
Yields – 12-14 bondas
Ingredients needed
Whole Urad dal – 100 grams (approximately 1/2 cup flat)
Green chilli – 1
Rice flour – 50 grams
Whole black pepper – 1 tsp
Thinly sliced coconut bits – 1 tbsp
Hing – 1/4 tsp
Curry leaves – few finely chopped
Coriander leaves – few finely chopped
Salt as required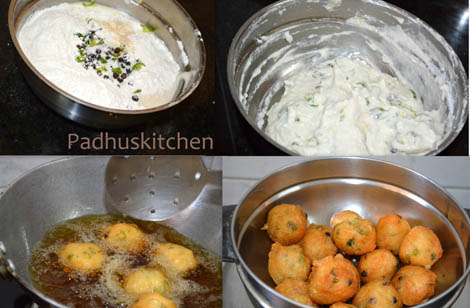 Preparation
Wash and soak urad dal for 30-40 minutes.
Drain the water completely and grind adding very less water (otherwise the mixie will not grind ) to a smooth paste just as you grind for
ulundu vadai
. Add green chilli and salt while grinding.
Then remove the batter from the grinder/mixie. Take that ground dal in a bowl, add rice flour (secret ingredient for crispy bondas), whole black pepper, coconut bits, hing, curry leaves and coriander leaves. Mix well.
Heat oil in a kadai, when it is hot, keep it in medium flame. Keep a bowl of water ready. Wet your fingers in the water, take a little batter, shape it into a ball and gently drop it into the oil. (use your thumb to gently push the ball shaped batter into the oil)
Fry both sides till golden brown and remove it in a colander or a kitchen towel to drain off excess oil.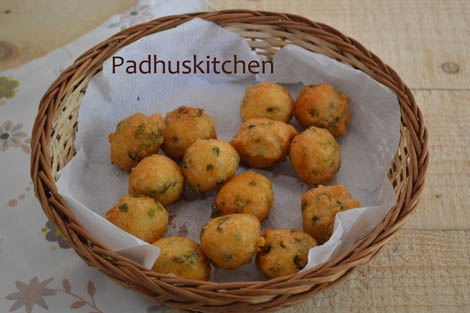 Serve hot with coconut chutney and a cup of tea. Heaven!!
Surprise your guests and family members by preparing this easy mysore bonda recipe and I am sure everybody is going to ask you the secret of crispy bondas.
Wishing you all a very Happy Diwali
. I am taking a break till Diwali. Have a wonderful time with your family and friends.
If you are searching for Diwali recipes, then search no more!! I have put in lot of hard work and compiled all the recipes at one place to make it easier for you all. Find a list of Easy
Diwali Sweets and Snacks Recipes
which can be easily prepared at home.
If you like this post, kindly consider linking to it or sharing it with others or like us on
Facebook
or follow me on
Twitter
or join me on
Google Plus
to keep up to date with Padhuskitchen.