Jangiri is a traditional sweet made with urad dal. It is commonly prepared during Diwali in Tamil Nadu. I enjoyed making jangiris and was so happy that it turned out so amazing. Believe me, making jangiri at home is not tough, all you need is a little practice. Do try it for Diwali this year and let me know. Today we will learn how to make Jangiri sweet following this simple recipe.
Jangiri Sweet Recipe
Yields – 25 jangiris (normal size)
5 mini jangiris
Ingredients needed
Whole Urad dal – 150 grams
Rice flour – 50 grams
Cornflour -150 grams
Red orange color – a drop or a pinch (mix it with a tbsp of water)
Cloth for making jangiri or icing bag
For the sugar syrup
Sugar – 3/4 kg
Milk -1/2 cup
Rose essence – 1/4 tsp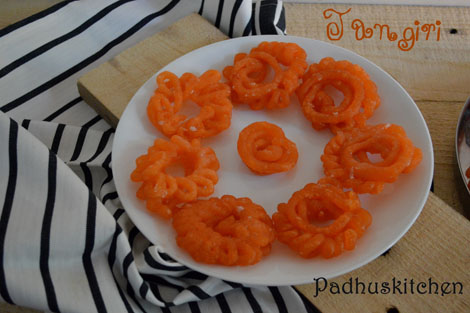 They look gorgeous, isn't it ? (Mini jangiri in the center)
Preparation
Soak urad dal for 45 minutes. Then drain the water completely and grind nicely in a wet grinder. Add little water from time to time and grind it to a smooth paste.The batter should be soft and fluffy. (I ground for nearly 1 hour.)

soaked urad dal and final jangiri batter
Now remove the batter from the grinder. Keep it aside. Do not add cornflour or rice flour now.
You have to prepare the sugar syrup first, then only start making jangiris.
Add just enough water to soak the sugar, then add 1/2 cup of milk and bring it to boil. The impurities in sugar will come to the surface. Remove and discard it. I used top class branded sugar, in spite of that, see how much impurities are there.(pictures 2-3 below) .
Now add rose essence and boil sugar syrup till you get
one string consistency
. This step is very important. To know what is one string consistency refer my
boondi laddu recipe
or
mysore pak recipe
.Then switch off the flame. We will prepare the batter and make jangiris now.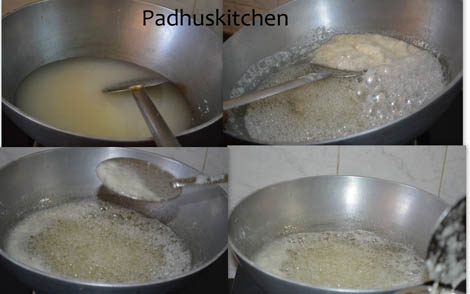 Preparing of sugar syrup
Before learning how to prepare jangiris, we will have a look at the traditional jangiri making cloth. It is made of thick cotton cloth with double piece in the center to give it more thickness. Then there is a hole with button hole stitch for piping jangiri. If you do not have this cloth, you can try using piping bags but I found it easier with this cloth as the hole was perfect. You can get it stitched from a tailor if needed.

Method
Mix cornflour with little water and make a paste. Add rice flour, cornflour + water mix and the red orange color to the batter. Beat the batter nicely with your hands. Beating the batter is very important. The batter should be fluffy. Now the jangiri batter is ready.
Heat oil in a large shallow flat bottomed plate as shown in the picture. We call it tambalam. Now dampen the cloth a little so that the batter will not stick to the cloth. Place a ladle of batter in it. Fold it diagonally, gather all the corners, twist the cloth and hold it tightly. Now you are ready to pipe jangiris.

Once the oil is heated, reduce the heat and then start piping out jangiris.(you will find it difficult to pipe if the oil is too hot, that is why I am asking you to reduce the flame) Once you finish, turn the heat to medium flame. Be very careful and do it patiently. First pipe 2 circles, then on the top of it make smaller rounds without stopping as you see in the picture below. Got it. With practice, you will master it.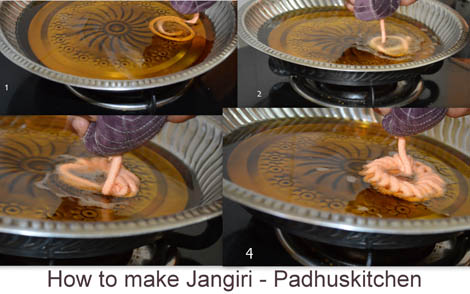 Now cook the jangiris in medium heat. Cook the other side also by flipping it over gently using a stainless steel rod.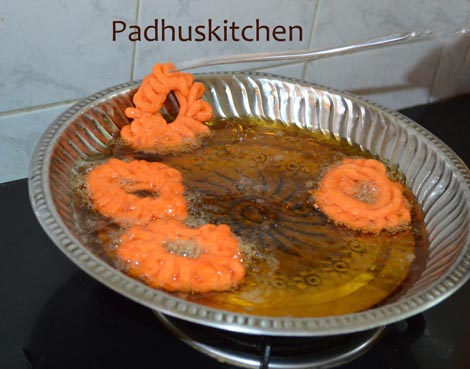 Touch the jangiri with the rod, if it soft, then it has to be cooked for some more time.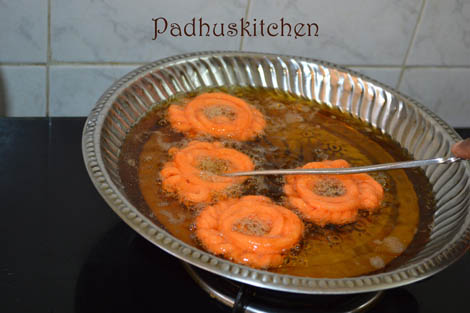 Once cooked, remove it from oil and drop it into the prepared sugar syrup. Press it gently with a ladle inside the sugar syrup. Let is soak, meantime we will prepare the second batch.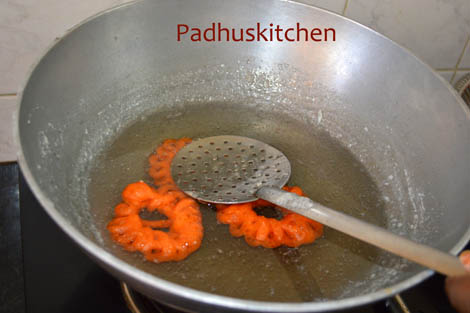 Now prepare the second batch in the same manner as mentioned above.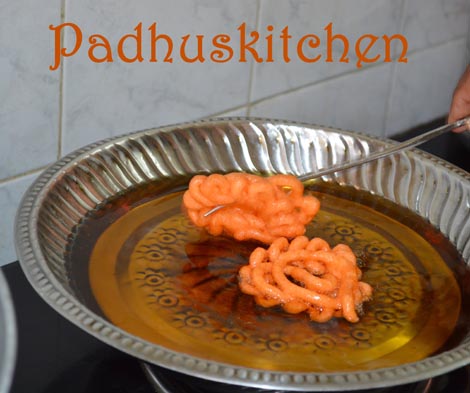 Remove the first batch from the sugar syrup and keep it on a plate to dry. Then drop the second batch of jangiris into the sugar syrup. In this way repeat the process for the rest of the batter.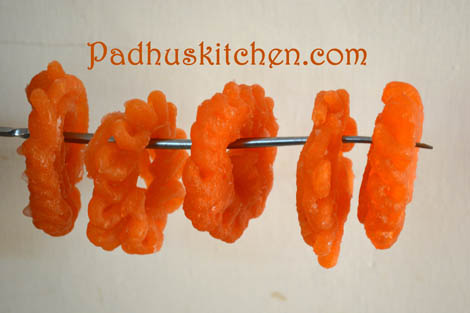 Yummy and delicious jangiris are ready. I throughly enjoyed making jangiris and writing this post. Hope you also enjoyed it.
Tips
In case if sugar syrup thickens by the time you finish making jangiris, add a little hot water to it.
Remove watches, bangles and make yourself comfortable as you are piping jangiris into the hot oil directly. Be cautious.
Easy Diwali Recipes both sweet and snacks which you can prepare at home. Enjoy!!
If you like this post, kindly consider linking to it or sharing it with others or like us on Facebook or follow me on Twitter or join me on Google Plus to keep up to date with Padhuskitchen