Mysore Pak is made of generous amounts of ghee (clarified butter), sugar and bengal gram flour.This mysore pak is not the authentic mysore pak which will be slightly hard but this is the soft mysore pak which is some what similar to what we get in Krishna sweets.Unlike the authentic version, this is very simple and can be prepared by anyone.Today let us learn how to prepare Mysore Pak following this easy recipe.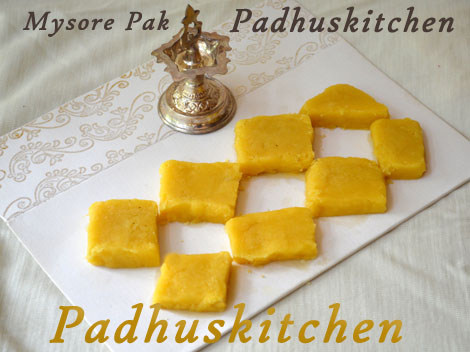 Ingredients needed
You can use any cup for measurement for this recipe.
Bengal gram flour/kadalai mavu/ besan -1 cup
Sugar – 2 cups
Ghee – 1 3/4 – 2 cups
A tray greased with ghee
Preparation
Sieve besan and dry roast it until slightly hot to touch. Spread it on a paper and let it cool.
Keep all the things ready including the greased tray.
Method
Melt ghee and keep it over a bowl of water in low flame as the ghee should be hot while adding.(see picture)
In a pan/kadai take sugar, add just enough water to cover the sugar.Let the sugar dissolve.Then boil sugar syrup until it reaches the one string consistency stage.
What is one string consistency? – take a little sugar syrup, cool it and stretch the syrup between the thumb and index finger, if it forms a thin string, it is the correct stage.
When the sugar syrup reaches one string consistency, add the besan little at a time stirring continuously. Keep the flame in medium.Once it thickens slightly, add ghee, a little at a time and stir continuously without stopping.
It will start bubbling and when the besan mixture starts to leave the sides of the pan, remove from flame and pour it into a greased tray or plate.
Allow it to cool. After it cools a little, cut into desired shapes. Then remove the pieces gently after it is cooled completely.
This mysore pak was very soft, tasty and melted in our mouth. How about preparing this easy mysore pak recipe for your near and dear ones this Diwali.


Find more Diwali Recipes


Important points
Use fresh ingredients only. Avoid using old stock bengal gram flour.
The whole process should be done in medium flame and stirring continuously is very important.
Another variation (my friend's recipe)
Instead of 2 cups of ghee, you can use 3/4 – 1 cup of ghee and 1 cup of refined oil.
After roasting besan slightly, mix it well with oil without any lumps and add it after the sugar reaches one string consistency. Rest of the procedure is the same. I have not tried this method yet.
If you like this post, kindly consider linking to it or sharing it with others or like us on Facebook or follow me on Twitter or join me on Google Plus to keep up to date with Padhuskitchen