Dosa is one of my favourite breakfast and I love making different varieties of dosas. This dosa will be very soft and spongy and stays like that even after 4-5 hours of preparation. It tastes great with coconut chutney.I had noted down this recipe long time back from a TV show and since we all loved it, it became a regular feature in our kitchen. This dosa is very good for health as it has fenugreek and urad dal which also gives the dosa its sponginess.The good thing is I have not added cooking soda or baking powder to prepare this dosa.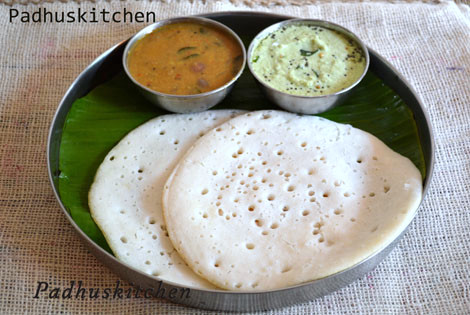 How to make Sponge dosa
Ingredients needed
Par boiled rice/ Idly rice/ Idli Pulungal arisi – 1 1/2 cup
Raw rice/pachaarisi -1/4 cup
Whole urad dal (without skin)- 1/4 cup + 1 1/2 tbsp
Fenugreek seeds – 1 tsp
Salt needed
Oil for making dosa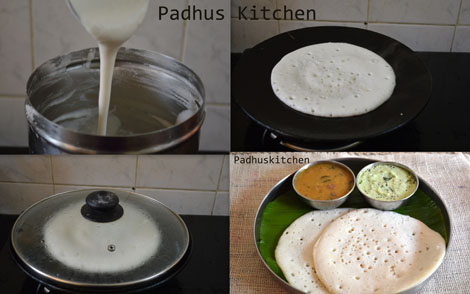 Preparation
Soak both rice, urad dal and fenugreek seeds together for 5-6 hours and grind it to a smooth paste.
Add required salt and mix well with your hands. Let it ferment for another 7-8 hours or overnight.
Method
Add needed water to the dosa batter as the consistency of the batter should be thinner than the regular dosa batter. Mix well. (see pic 1)
Heat a tawa or dosai kal on high flame, once it is heated, pour a ladle of batter. Do not spread much as the batter will spread itself.
When you find holes appearing on the surface (see pic 2) reduce the flame to low and cover it with a lid.
Once the top gets cooked, remove from flame. You do not have to flip over the dosa. Repeat the process for the rest of the batter.
Serve it with coconut chutney and arachu vitta sambar or any chutney of your choice.
If you like this post, kindly consider linking to it or sharing it with others or like us on Facebook or follow me on Twitter or join me on Google Plus to keep up to date with Padhuskitchen.