Many of you may not have heard of this sweet but this is a very popular Traditional South Indian (Tirunelveli side) Diwali sweet made in most Tamil Brahmin homes.The main ingredient of this dish is dal and jaggery. Since jaggery is used to prepare this dish, it is very healthy also. Today we will learn how to make Okkarai , a very simple yet tasty sweet (Diwali special) following this easy recipe.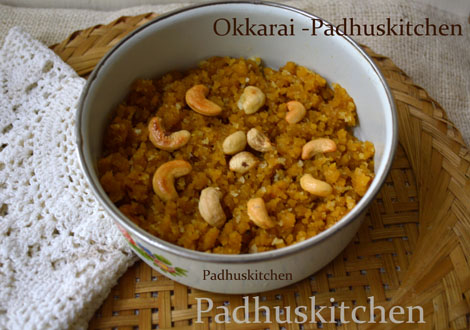 Ingredients needed
Channa dal / Bengal gram/ Kadalai paruppu -1/2 cup
Moong dal/pasi paruppu (split yellow variety) – 1/2 cup
Jaggery – 1 cup
Ghee – 1/4 + 1 1/2 tbsp
Coconut – 1/3 cup grated
Cashew nuts -10-12
Cardamom powder- 1/4 tsp
Preparation
Melt jaggery in just enough water and filter it to remove any impurities.
Method
Dry roast both the dal separately till you get a nice aroma. Do not brown it too much.
Soak both the dal together in hot water for 1 hour.
Drain the water completely and grind it without adding water.( it should neither be very fine nor very coarse, it should be in between both)
Then steam the ground dal in idli plate. Allow it to cool completely and then crumble it nicely. To make it easier, use the mixie.(Use the whipper button and the blade given for dry grinding) It will crumble evenly.
Heat 2 tsp of ghee and fry cashew nuts. Remove and in the same pan, fry the grated coconut until it turns golden brown.
Heat another 2 tsp of ghee and fry the crumbled dal for a few minutes.(see pic below)
In another kadai, heat jaggery, when it starts boiling, add cardamom powder, crumbled dal mixture, remaining ghee and cook in medium flame till it leaves the sides of the pan.
Then add fried coconut, cashew nuts and mix well. Okkarai sweet is ready.
Decorate it with cashew nuts and serve. I am sure you will all love this very simple and tasty sweet.
Are you searching for Easy Diwali sweets and snacks recipes, search no more!! You have come to the right place. Find a long list of Diwali Recipes
If you like this post, kindly consider linking to it or sharing it with others or like us on Facebook or follow me on Twitter or join me on Google Plus to keep up to date with Padhuskitchen.