We have seen
how to sprout Green Mung dal
in our last post, today we will see some
salad recipes
or low calorie healthy recipes using green gram sprouts. Sprouts are easily digestible, rich in fiber and other nutrients.They have abundant active antioxidants which can protect us against many diseases. No wonder they are called the "super food" or "health food".
Have you ever heard of the Rainbow Diet. Rainbow diet is including lot of colorful fruits and vegetables in your diet. According to express.co.uk "Becoming more color conscious when it comes to meals can maximize your intake of disease-fighting nutrients
and help you discover the golden health benefits at the end of the rainbow.There is plenty of evidence to suggest the best way to brighten up your diet is to eat a rainbow of foods".
I have heard many mothers complain that their kids are not having enough vegetables or fruits.My suggestion is always keep stock of fresh fruits and vegetables like cucumber, carrot etc at home.You can always snack on them when you are feeling hungry in between meals. Personally I never stock snack items or cakes or muffins or chocolates at home.So my children have grown up eating fruits and salads for evening snacks, sometimes even as side dish for pulao. I am not telling that you should deprive your kids of cakes or fried items but make it an occasional treat. It is we who have to teach our kids good eating habits and see to it that they grow into healthy individuals.
Combination of sprouts with chopped fruits and vegetables increases their nutritional value.
Salad # 1 -Moong sprouts with fruits
Fruits of your choice (chopped)
Fresh orange juice – 2 tbsp
Mung sprouts – fistful
Tomato -half (seeds removed and chopped)
Salt and pepper powder to taste
Method
Just toss all the above ingredients in a bowl just before serving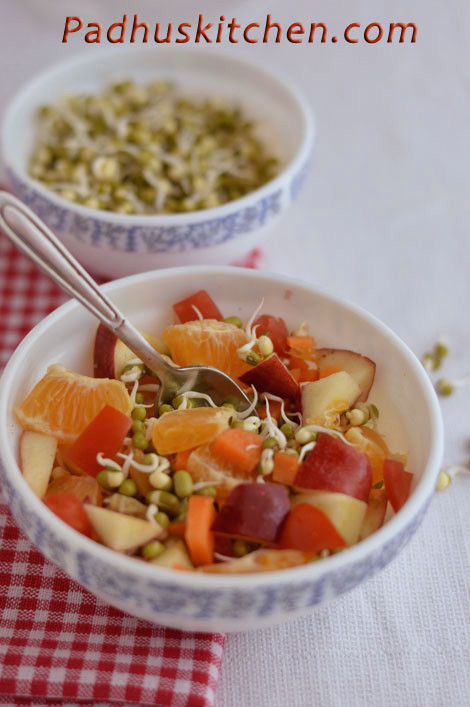 Salad #2 – Sprouts with oranges and honey
Mosambi -1
Orange – 1
Honey – 2 tsp (avoid sugar as much as possible)
Sprouts – handful
Method
Peel the oranges, remove the seeds and the outer skin. Take the orange segments alone.
Mix everything in a bowl before serving. You can serve chilled also.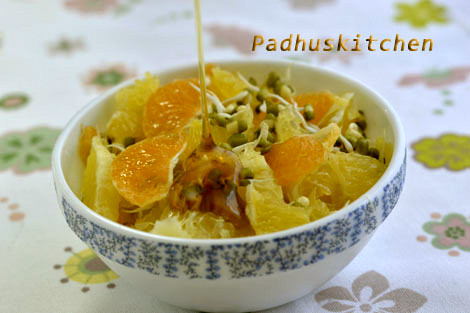 Salad #3 – Sprouts with vegetables
Ingredients needed
Tomato
Cucumber
Cabbage
Carrot
Mung sprouts
Pepper powder to taste
Lemon juice and salt to taste
Method
There are no specific measurements. You can add more or less of vegetables according to your preferences.Mix all the vegetables in a bowl. Add salt, pepper powder and lemon juice to taste. This can be had even as a side dish for pulaos.

Salad #4 -How to prepare sprout salad (plain)
Even if you do not have any fresh vegetables or fruits at home, you can still make a salad with plain green grams sprouts or moong dal sprouts.
Mung sprouts – 1 cup
Oil – 1 tsp
Mustard seeds- 1/2 tsp
Green Chilli -1
Ginger finely chopped – 1 tsp
Salt and fresh lemon juice to taste
Method
Heat a tsp of oil, add mustard seeds, when it splutters, add finely chopped green chilli and ginger. Saute for few seconds and add to the mung sprouts. Add salt and lemon juice to taste. Mix well and serve with rice or enjoy as such.
My personal experience – If you stick to a sprout rich food, within a month, you will feel more energetic, have better skin and hair and of course feel more healthier. (buy organic green gram)
If you found this post useful, kindly consider linking to it or sharing it with others or like us on
Facebook
or follow me on
Twitter
or join me on
GooglePlus
to keep up to date with Padhuskitchen.
Lot of efforts, time and hard work is put into each post, so I would really love it if you pin it or share it with your Facebook fans or Twitter followers or Google+ circles today. All it takes is a simple click on the "pin it" "like," "share," "tweet," or Google+ buttons below the post. It will keep me motivated. Thank you!