Paniyaram is a very popular traditional South Indian snack prepared with from pulses and rice using a special paniyaram mould. Kuzhi paniyarams can be made sweet or spicy. It is a favorite among kids.You can give them as snacks when they return from school. It is very healthy as we are using only idli batter, coconut and jaggery to prepare this.I have already posted spicy kara paniyaram using idly batter.Today we will learn how to make sweet paniyaram using idli batter following this easy recipe.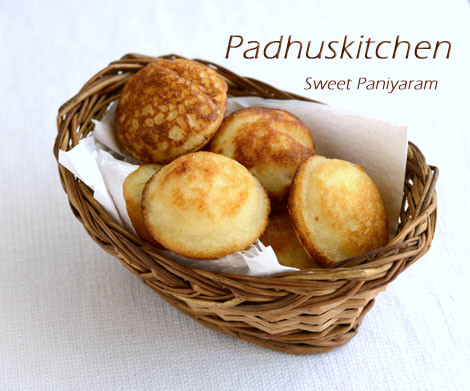 South Indian Sweet Paniyaram Recipe using Idli batter
Prep time – under 5 mins (provided you have idli batter ready)
Cook time – under 15 mins
Yields -13-14 small paniyarams
Ingredients needed
Idli batter – 11/2 cup
Jaggery – 5 tbsp or as required
Grated coconut – 3 tbsp
Cardamom powder – a pinch
Salt – a pinch
Ghee or a mix of ghee and oil for cooking paniyarams
Paniyaram pan
Method
Mix together idli batter, jaggery, grated coconut, a pinch of salt and cardamom powder. The batter should be thick as once the jaggery dissolves, the batter will become slightly thin.(so use thick idli batter without salt)
Heat the paniyaram pan and then add 1/2 a tsp of oil in each hole (kuzhi) of the pan.
Then fill in the holes with the prepared batter.(fill only up to 3/4)
Cover and cook on medium flame. Once the bottom starts browning, using a skewer or spoon, flip it over gently to the other side.
Cook the other side uncovered until golden brown. Keep an eye on it as it will turn brown very quickly.
Remove from the pan and serve hot. You do not need any side dish for this.
Note – Once you mix the jaggery, make paniyarams immediately.
Keep aside some idli batter without mixing salt, if you are planning to make this sweet paniyaram or vella paniyaram.
Check out my

Kara Kuzhi Paniyaram Recipe
If you found this post useful, I would really love it if you pin it or share it with your Facebook fans or Twitter followers or Google+ circles today. All it takes is a simple click on the "pin it" "like," "share," "tweet," or Google+ buttons below the post. It will keep me motivated. Thank you!