This is another refreshing drink perfect for this season. Though I am not very fond of it, my son loves iced tea with lemon. It can be easily made at home.Today let us see how to make iced lemon tea following our easy recipe.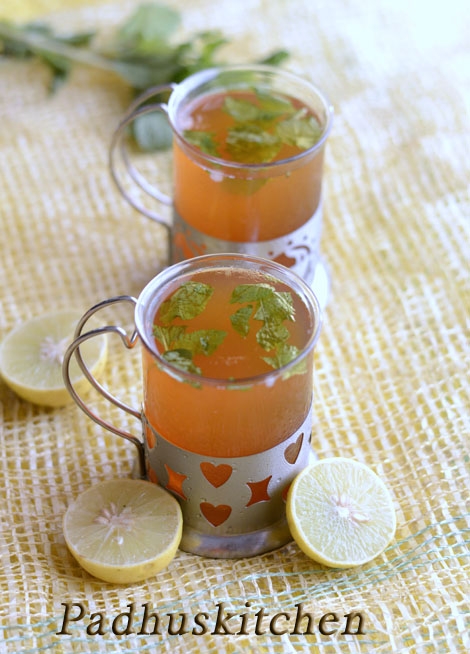 Iced Lemon Tea (with mint flavor)
Serves -2
Ingredients needed
Lemon – 1
Tea powder -1 tsp or tea bag -1
Ice cold water – 2 cups
Ice cubes – 2-3
Sugar or honey to taste
Mint leaves – 3-4 leaves for garnishing (optional)
Method
Bring half cup of water to rolling boil. Switch off and add 1 tea bag/1 tsp tea powder.
Let it steep for 10 minutes. Discard the tea bags or strain the tea and allow it to cool.
Add juice of 1 lemon and sugar. Stir well for the sugar to dissolve.
Then add 2 cups of cold water.
Refrigerate until chilled. Add ice cubes before serving
You can increase or decrease the ingredients according to your taste.
Note – I have garnished with a few mint leaves just to make it visually appealing.
Meet you all with more interesting recipes.