Most of the ready made juices we get in the market is not pure, so I always prefer to buy fresh fruits from the market and prepare juice at home.It is not going to take much time. Moreover the commercially available juices have preservatives to increase their self life. So in my opinion, it is always better to go natural. If you can buy organic fruits and vegetables, it is even better. Grape juice is so refreshing and also considered one of the most beneficial juices for health.Grape juice has anti-aging properties, flushes out toxins from the body and is also a blood purifier. It is very rich in antioxidants and is very effective in preventing minor skin problems.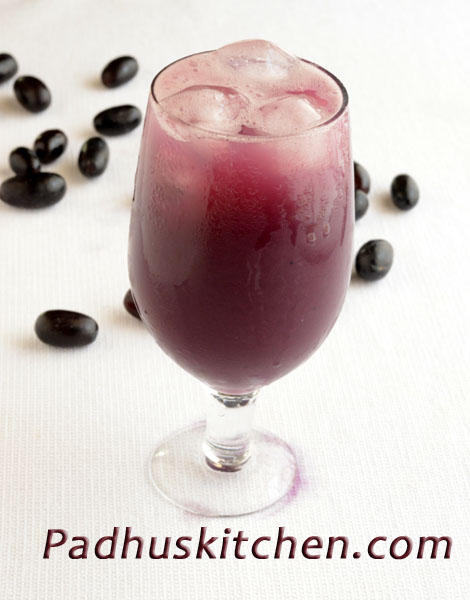 How to make Grape Juice at home
Prep time – under 10 mins
Serves – 1
Ingredients needed
Black grapes – 2 cups
Water – 1/2 cup
Sugar or honey or any sweetener to taste ( I skipped this as the grapes I used were very sweet)
Juice strainer
Ice cubes – 2-3 (optional)
Preparation
Remove the grapes from the stem and wash it well twice.
Method
In a blender, add grapes and 1/4 cup water and puree it.
Then add another 1/4 cup water and blend it again.
Strain using a juice strainer. Press the puree nicely to extract as much juice as possible.
Add honey or sugar if required. Pour into a glass, add 2 ice cubes and serve chilled.
What could be a better way to beat the summer heat than a glass of healthy, delicious and chilled fruit juice!! More juice recipes to come. Stay connected.
Tips – Add a little fresh grape juice (without sugar) to your homemade facial mask and see your skin glow.
If you found this post useful, kindly consider linking to it or sharing it with others or like us on Facebook or follow me on Twitter or join me on GooglePlus to keep up to date with Padhuskitchen.