This is a very traditional Tamil Brahmin style of making paruppu payasam. It does not require coconut milk. I have already posted the Kerala style of preparing
Paruppu payasam with coconut milk
. I love jaggery based dishes, so naturally love both these payasams very much. I wanted to post something special for Tamil New Year/ Tamil Varusha Pirappu, so decided to post my most favorite payasam.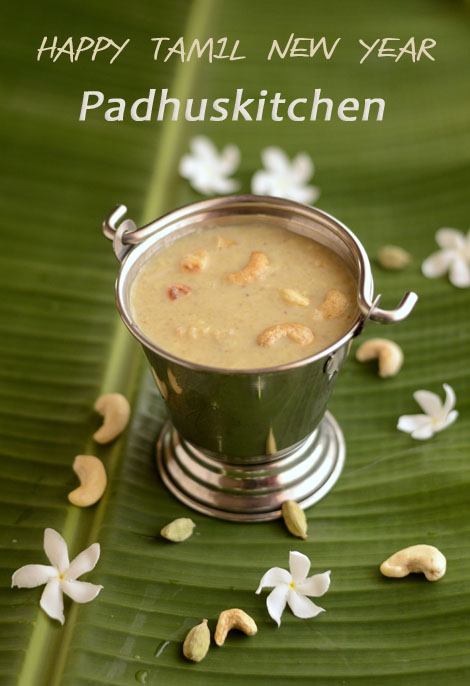 How to make Pasi Paruppu Payasam without coconut milk
Prep time – under 15 mins
Cook time – under 20 mins
Serves -2
Ingredients needed
Milk – 2 1/4 cup
Pasi paruppu/Moong dal – 1/3 cup
Kadalai paruppu/channa dal – 1 1/2 -2 tbsp (optional)
Jaggery – 3/4 cup
Grated coconut -1/4 cup
Rice flour – 2 tsp
Cardamom powder – 1/4 tsp
Cashew nuts – 6
Preparation
Dissolve jaggery in very less water and filter it to remove any impurities.
Heat a tsp of ghee and fry cashew nuts.
In the same pan roast pasi paruppu and kadalai paruppu (if using) separately until you get a nice aroma of roasted dal. Immediately add water to the dal. Wash and drain that water.
Grind grated coconut and rice flour just for a second. (Do not make it a paste)
Method
Pressure cook dal with enough water, keeping the coconut + rice flour mixture in a cup for 3-4 whistles.
Once the pressure subsides, open the cooker and mash the dal nicely with a potato masher.
Now the mashed dal, coconut and the fried cashew nuts are ready.

Now add the mashed up dal, coconut + rice flour mixture, cardamom powder to the jaggery and mix it well.
Keep it in low flame and let it cook until everything gets blended well.
In a heavy bottomed vessel or kadai, boil milk in medium flame until it reduces a little. Keep stirring now and then to prevent the milk from getting burnt.

Both jaggery dal mixture and the milk is ready. Now is the most important step. When preparing any jaggery based payasam, keep in mind both the jaggery and the milk should not be hot as there are chances of the milk curdling. Either one should be at room temperature.
Either you add milk (at room temperature) to hot jaggery syrup or hot milk to jaggery syrup(at room temperature). In this way, there are hardly any chances of the milk getting curdled.
Now after adding the milk, add the fried cashew nuts, simmer for 2-3 minutes and switch off the flame.

Delicious, healthy (no sugar, no coconut milk) and filling payasam is ready to be served.
Do try this for Tamil New Year and enjoy with your family. Wishing you all a Very Happy Tamil New Year.
Note – If you want to reheat the payasam, do not reheat it directly. Heat a bowl of water and keep the payasam container inside that bowl of water and reheat it.
You can adjust the consistency of the payasam by increasing or decreasing the quantity of milk.
If required, you can soak dal for 10 minutes after roasting it, so that it will take less time to get cooked.
Check out Tamil New Year Recipes
If you found this post useful, kindly consider linking to it or sharing it with others or like us on Facebook or follow me on Twitter or join me on GooglePlus to keep up to date with Padhuskitchen.