Unni appam is a popular snack in Kerala prepared from rice, jaggery, banana and ghee.Today I am going to share with you 2 methods of preparing unniappams. One which I learnt from my friend and another is an instant version which I got it from a magazine. I have tried and tested both methods. Personally I liked the outcome of the first method but I am  sharing with you the other method also (instant version) as it might come handy when you do not have much time for the elaborate method. Today we will learn how to prepare unniappam following our easy recipes.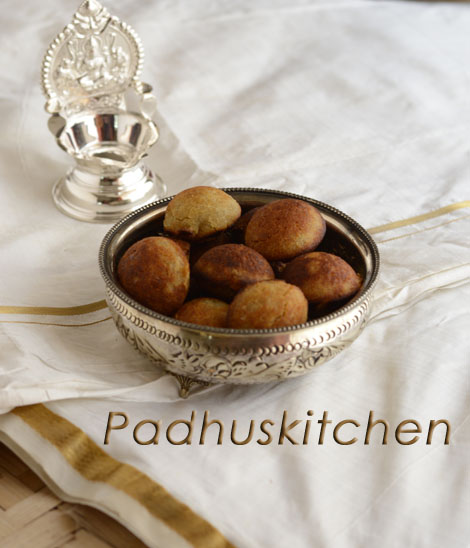 How to make Unniappams
Ingredients needed
Raw Rice – 1 cup
Jaggery -1 cup + 2 tbsp
Banana – 1 (medium size)
Cardamom powder – a generous pinch
Coconut bits -3 tbsp
Roasted Sesame seeds – 1/2 tsp
Cooking soda – a pinch
Oil and ghee for cooking appams
Paniyaram pan or appa chatti
Preparation 
Wash and soak rice overnight or for 5-6 hours.
Drain the water and grind it to a smooth paste. Leave it for another 4-5 hours.(what I did was, I soaked rice overnight, ground it in the morning and prepared unniappams in the evening.)
Fry coconut bits in a little ghee and keep it aside.
Add grated jaggery, chopped banana to the ground rice and grind it again.(if jaggery has impurities,dissolve it in little water, strain it and then grind it with rice)
Add cardamom powder, sesame seeds, fried coconut bits, cooking soda and mix well. The consistency of the batter should not be too thin nor too thick, so adjust accordingly.
Method
Heat a paniyaram pan, add a tsp of oil + 1/2 tsp of ghee in each hole of the appa chatti or paniyaram pan.
When the oil + ghee becomes hot, reduce the flame to low and fill the holes with the batter. (fill only up to 3/4 th of the hole). Now cook covered in medium flame.
When the bottom starts  browning, flip it over to the other side with a spoon or a skewer.
Let the other side get cooked uncovered until golden brown. Once cooked, remove and drain on a kitchen towel.
Repeat the same process for the rest of the batter.
Note- You will get soft unniyappams only if rice is soaked for so long and fermented.
Method 2 (Instant version)
Rice flour – 1 cup
Wheat flour -1/4 cup
Jaggery – 1 1/4 cup
Coconut bits – 1/4 cup
Banana -1 medium size
Cardamom powder – 1/4 tsp
Cooking soda – a pinch
Oil + ghee mix for frying
Appam chatti
Preparation
Fry coconut bits in 2 tsp of ghee and keep it aside.
Heat 1/4 cup of water and dissolve jaggery in it. Filter it to remove impurities.Keep this ready.
Method
In a bowl, mix together rice flour and wheat flour.
Add chopped banana to it and mash it well.
Add warm jaggery to the above mixture.
Then add fried coconut bits, cardamom powder,cooking soda and mix well.This is the unniyappam batter.
Follow the same method as given in the first recipe for preparing unniappams.
Wishing you all A Very Happy Vishu.
Find more Onam and Vishu Special Recipes
If you found this post useful, I would really love it if you pin it or share it with your Facebook fans or Twitter followers or Google+ circles today. All it takes is a simple click on the "pin it" "like," "share," "tweet," or Google+ buttons below the post. It will keep me motivated. Thank  you!