After posting
Porridge recipes for babies
, I wanted to do a post on soup recipes for toddlers.I have discussed with a
consultant Pediatrician
and also referred few books before writing this article.I have developed these soup recipes after consulting elders in our family.
These soups can be given to babies above 6 months old.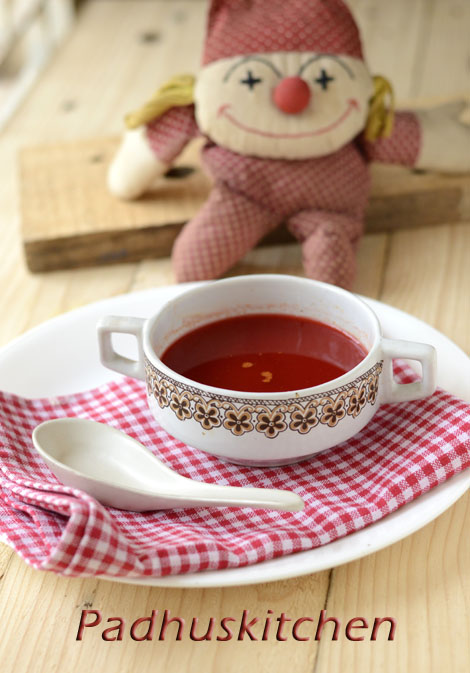 Beetroot carrot soup
Kindly read the tips given before going to the recipes-
1.Pediatricians advise breastfeeding for the first 6 months. According to
WHO
"Exclusive
breast feeding is recommended up to 6 months of age, with continued breastfeeding along with appropriate complementary foods up to two years of age or beyond".
2.It is advisable to introduce new foods to a baby one at a time. It is recommended that you give each new food everyday for an entire week before starting another. If there is any kind of adverse reaction, it is generally advised that the food be discontinued immediately and not be resumed for several weeks
3.Most fruits and vegetables cause no problem but parents are often advised to hold off on introducing berries and tomatoes, peas, beans and shellfish.
4.Wash all fruits and vegetables well. Go for organically certified fruits and vegetables.
5.Wash your hand with soap and water before feeding the baby.
6.Initially give only the clear soup water.Then you can slowly introduce the puree.
7.The clear soup can also be used as a base for mixing cereals.
8. Since you are going to spoon feed the baby for the first time, see to it that the consistency of the soup is neither too thick nor too runny.
9.Start with 5-6 tsp and then you can gradually increase the quantity. Watch for any allergic reactions or intolerance, in that case it is advised to dicontinue.
10.What suits one child may not suit another. So do not compare with other babies.
11.Do not force him/her to eat if he/she is not interested. Baby knows best when he/she has had enough. He will communicate in his own ways by spitting, turning his head away, that he has had enough.Watch for those signs.
12.For younger babies puree the fruits in blender or food processor.
13.Once the baby gets used to the puree, you can mash fruits or vegetables with a fork, leaving soft small chunks as they will learn to chew.
14. Seeds and skin of vegetables should not be given.
15.It is best to avoid salt for the soups. Don't assume that babies will like it only if you add a pinch of salt.
16.I have used the pressure cooker for all the soups to save time and fuel. If you do not own a pressure cooker, you can use a saucepan to cook the vegetables until soft.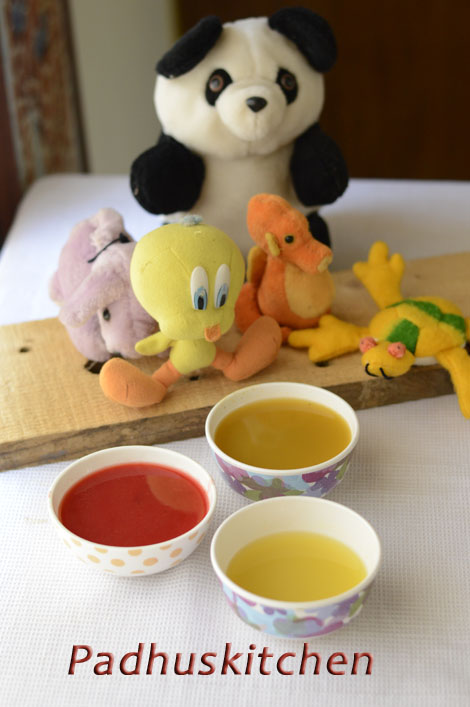 Vegetable soup-beetroot potato soup-lentil soup
1.Beetroot Carrot Soup
Beetroot – 1/4 cup (washed, peeled and cubed)
Carrot – 1/3 cups (washed, peeled and cubed)
Pressure cook beetroot and carrot in 1/4 cup of water for 3 whistles. Puree it in a blender. Strain using a soup strainer. Add more water if required, reheat the soup in a pan and serve lukewarm.
2.Lentil Soup
Moong dal – 2 tbsp
Turmeric powder – a pinch
Pressure cook dal with little water for 3 whistles. Mash it well and pass through a sieve or strain using soup strainer.
Adjust the consistency by increasing or decreasing the water, reheat and serve lukewarm.
3.Mixed Vegetable Soup
Carrot – 2-3 small pieces (washed, peeled and cubed)
Cabbage – little less than 1/4 cup (wash and chop finely)
Potato – 2 small pieces (washed, peeled and cubed)
Bottle gourd- 2-3 small pieces ((washed, peeled, seeds removed and cubed)
Spinach/palak leaves -2-3 (washed and chop)
Pressure cook everything together with 1/4 cups of water. Puree it in a blender. Strain using a soup strainer.
Add water if required, reheat the soup in a pan and serve lukewarm.
If you want clear soup, do not blend it, just strain it.
4.Beetroot Potato soup
Potato – washed, peeled and cubed – little less than 1/4 cup
Beetroot – washed, peeled and cubed – 1/4 cup
Pressure cook both together with 1/3 cup of water for 3-4 whistles. Blend it to a puree and strain using a soup strainer. If the soup is thick, you can add water and warm it.
You will love my healthy homemade porridge recipes for babies also.
I hope your babies will love and enjoy these healthy Baby Food Recipes. Kindly start these soups after consulting your pediatrician.
Source
Tips written after consulting Pediatrician
"What to expect the first year"- by Heidi Murkoff, Arlene Eisenberg and Sandee Hathaway
If you found this post useful, kindly consider linking to it or sharing it with others or like us on
Facebook
or follow me on
Twitter
or join me on
GooglePlus
to keep up to date with Padhuskitchen.