This classic pineapple upside down cake has caramelized pineapple slices on top and a buttery white cake below. All these days, I though making these upside down cakes are difficult but it is not so. This cake is so easy to make and tastes delicious with the caramelized pineapple. You can make this classic cake for parties or small get togethers and completely "wow" your guests. Today we will learn how to make this easy pineapple upside down cake following this simple recipe.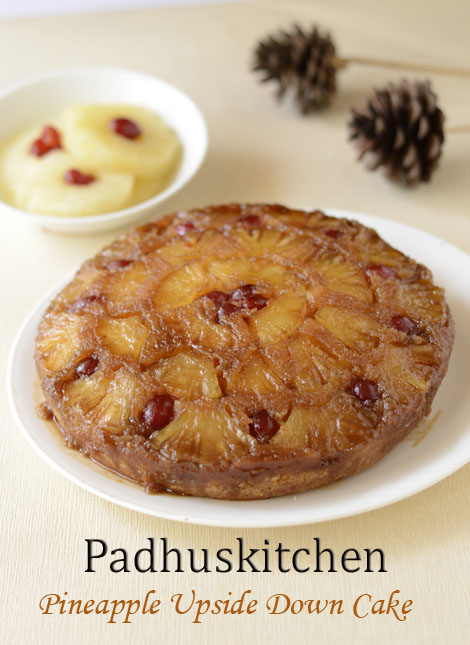 How to make Pineapple Upside Down Cake from scratch
Recipe source – joyofbaking
Ingredients needed
For the cake batter
All purpose flour/maida – 1 1/2 cup (195 grams)
Baking powder – 2 tsp
Salt – 1/4 tsp
Butter – 1/2 cup unsalted butter (113 grams)
Granulated white Sugar – 1 cup (200 grams)
Vanilla essence – 1 tsp
Eggs – 2 large separated
Milk – 1/2 cup (120 ml)
Round baking pan 9 inch (23 cm)
Toppings
Butter – 4 tbsp unsalted butter(55 grams) 1/4 cup
Brown sugar – 3/4 cup (powdered) (160 grams)
Pineapple – fresh or canned
Candied Cherries
Preparation
Preheat the oven at 180 degree C for 15 minutes.
If using fresh pineapple, peel and core the pineapple and cut it into quarters with 1/4 inch thickness. If using tinned pineapple, drain the syrup, pat it dry with a paper towel and napkin and keep it ready.
Sieve maida, baking powder and salt together twice.
Grease and flour the baking pan and keep it ready.
Topping preparation
In a pan, add butter, brown sugar and stir over medium heat until butter melts and sugar dissolves. After sugar dissolves, continue cooking without stirring for a few more minutes or until bubbles just start to appear around the outside edges of the mixture.
Switch off the flame and pour it into the prepared baking pan. Let it cool a little.
Then arrange the pineapple slices on top of the sugar mixture. Keep cut cherries in the center and corners or as you like in the space in between.

Cake batter preparation
Beat butter and sugar in a bowl until light and fluffy with an electric mixer or with a hand mixer. Add vanilla essence.
Add egg yolks one at time and beat well after each addition.
Add flour mix (3 additions) and milk (2 additions) alternatively ending with flour. Use electric beater in low speed and stop once mixed well. Do not over beat as the cake will turn hard.

In a dry bowl, whisk the egg whites until it forms a firm peak.

Using a spatula gently fold in the beaten egg white with the cake batter in two additions.
Now tap the baking tray for the batter to spread evenly and smooth the top.
Bake in a preheated oven at 180 degree C for 45-55 minutes or until the top of the cake has browned and starts to pull away from the sides of the pan. Insert a toothpick in the center of the cake and if it comes out clean, your cake is done.
Remove from the oven and place on a wire rack to cool for about 10 minutes. Once the cake has cooled down, run a knife around the edges of the pan and then invert the cake.

Yummy pineapple upside down cake is ready. It can be served warm from the oven or cooled. If needed it can be topped with a dollop of softly whipped cream.
Note – If you do not have a 9 inch round pan, use 8 1/2 or 9 inch aluminium cooker separator as I have done.
Use the middle rack for baking.
Beginners, do check out my tips on baking before starting to bake.
If you found this post useful, I would really love it if you pin it or share it with your Facebook fans or Twitter followers or Google+ circles today. All it takes is a simple click on the "pin it" "like," "share," "tweet," or Google+ buttons below the post. It will keep me motivated. Thank you!