Millets are gluten free, rich in fiber, proteins, minerals and vitamins. Besides being gluten-free, millets have higher nutritional value than wheat, especially phosphorus and iron. Its fiber content also helps prevent constipation and may reduce the risk of developing bowel disorders. Millets are easy to digest, contain a high amount of lecithin and are excellent for strengthening the nervous system (source-Hindu).They contain complex carbohydrates which breaks down slowly and hence good for diabetic patients.These grains were used in olden days by our ancestors but totally forgotten today.Now a days I have started loving millets so much that I have switched to eating millets thrice a week, so you will be finding lot of millet recipes in this space.The good think about millet is that they can be substituted for rice and wheat in many recipes.I would like to share another interesting thing I read about millet. These crops grow in poorer soils and are highly resistant to pests and diseases. Hence they are usually grown without any chemical fertilizers or pesticides.So they are mostly organic by default. I started this blog not only to inspire others to cook but also to bring back our traditional food and also to create an awareness on health among people. It is time we bring back this forgotten grain in our diet.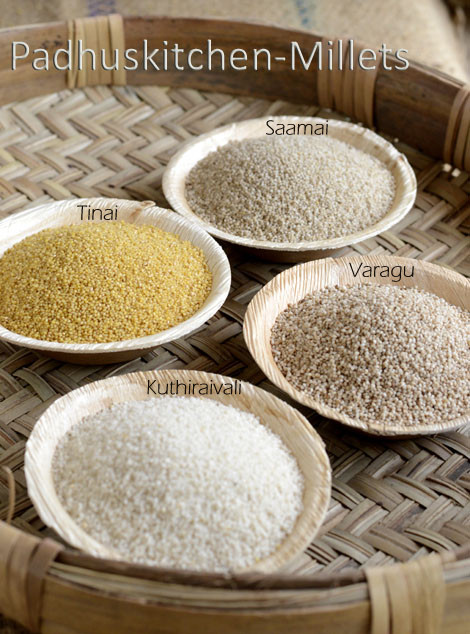 Some popular millet varieties
Saamai – Little millet
Varagu -Kodo Millet
Thinai -Foxtail Millet
Kuthiravaali -Barnyard millet
Kezhvaragu-Finger millet
Kambu-Pearl millet
First we will start with the basics on-How to cook millets? before going to Millet recipes. Samai, varagu, kuthiravaali can be cooked in the same manner as below and can be used in the same manner as rice. Foxtail millet/Thinai alone needs to be soaked for one hour.Cooking method is the same as below.
Ingredients needed
Millets – samai or varagu or kuthiravaali or thinai – 1 cup
Water -3 cups
1. Clean millets and remove grits if any.
2.Wash and add 3 cups of water and switch on the heat.

3.When water starts boiling, reduce the heat to low, close it with a lid and cook for 10 minutes.
4.After 10 minutes, switch off the flame and let it sit for 20 minutes. The millets will get cooked fully in that resting time.

Fluff it with a fork and serve just as you serve rice with sambar, rasam or curd. Just replace rice with millets as shown below.
A very healthy Lunch menu with millets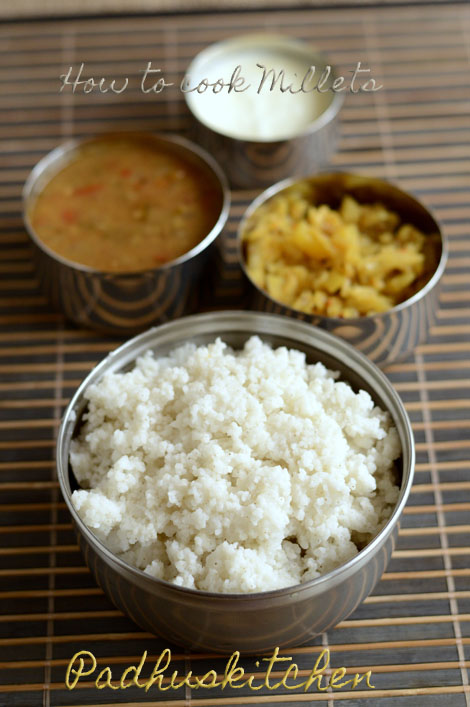 Soya Beans Sambar-Cabbage Potato Curry-Curd- Millet (Barnyard millet-Kuthiravalli)
You can reduce the water to 2 1/2 cup for 1 cup of millet for preparing variety rice but personally I prefer 3 cups of water for 1 cup of millets. Once it cools it becomes fluffy and is suitable for any variety rice also.


Note -You can pressure cook millets in the same way as you cook pressure cook rice. For 1 cup of millets, add 2 1/2 -2 3/4 cup of water depending upon your personal preference.
If you found this post useful, I would really love it if you pin it or share it with your Facebook fans or Twitter followers or Google+ circles today. All it takes is a simple click on the "pin it" "like," "share," "tweet," or Google+ buttons below the post. It will keep me motivated. Thank you!