Puttu is a traditional and most popular breakfast dish of Kerala prepared with rice flour and coconut. Puttu is usually served with
kadala curry
or it is served with pazham (small yellow banana)and sugar. Puttu, Cherupayaru curry, pappadam is another great combination. Puttu is very delicious either way. Puttu is generally cooked in a puttu kutti vessel with two sections. The lower section holds water and the upper section (a cylindrical tube)holds the puttu — where the rice mixture is inserted with layers of grated coconut. Perforated lids separate the sections to allow the steam to pass between them.(wiki). Today we will learn how to make Kerala Rice puttu following this easy recipe.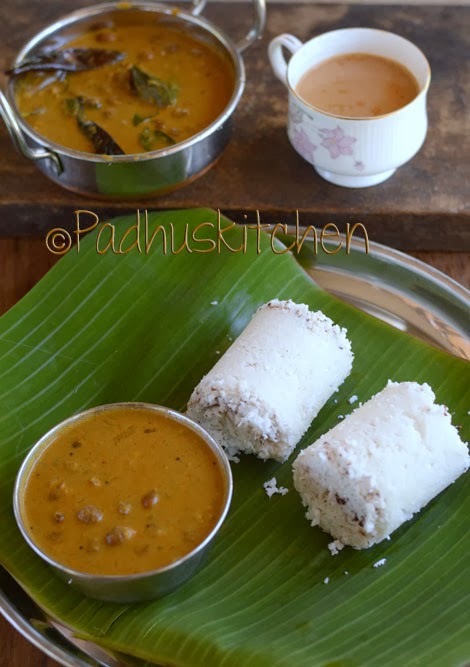 Puttu Recipe-Kerala Rice Puttu
Prep Time
:
15 Mins
|
Cook Time
:
15 Mins
|
Serves
:
4
Ingredients needed
Puttu flour- 2 cups
Grated coconut- as needed
Water -appoximately 1 cup
Salt needed
Puttu maker/idly steamer
How to make Puttu flour

Buy raw rice specially sold for making puttu also called puttu arisi. Wash and soak rice for 4-5 hours.Wash again and drain the water completely. Spread it on a cloth for 20-25 minutes. Then get it ground in the flour mill when it is slightly wet. Then fry the flour on medium heat until it reaches a sandy consistency. Spread it to cool and then store in an airtight container. This is puttu mavu/puttu rice flour.
Method

Take 2 cups of puttu flour in a bowl. Add a little salt.

Add water little at the time and mix well with your finger tips.When you take a handful of flour and press it between your fist, it should hold its shape, when you press it again a little harder, it should crumble. That is the right consistency.
The flour should be crumbly and moist. There should be no lumps.You can blend it in a mixer for 2-3 seconds using the whipper blade. Keep it aside for 15 minutes.

How to fill the puttu kutty/puttu maker
Layer the puttu kutty (cylindrical tube) first with a little grated coconut, then add 2 fistful of puttu flour.Then again add grated coconut followed by puttu flour.Repeat the same process until the mould/puttu kutty is full ending it with grated coconut.(see picture above)
Now fill the puttu pot with water, cover the cylindrical tube with lid and fix it on the pot. Keep it on high flame. Once the water start boiling in the pot, you will see steam escaping from the holes on top of the cylindrical tube, reduce the flame and cook for another 5-6 minutes.
When you get a nice flavor of steamed puttu, switch off, remove the cylindrical tube/puttu kutty from the pot, open it and gently push the puttu using a wooden ladle.
Serve hot with kadala curry or payaru and pappadam or small yellow banana and sugar.
You can make puttu without puttu maker also using a steamer or idly pan. Take an idly mould, start with a layer of grated coconut, the add puttu mixture. Layer it again with coconut and puttu flour. See to it that the final layer is grated coconut. Steam for 6-10 minutes or until the puttu is done.
Puttu, Cherupayaru curry, pappadam is another great combination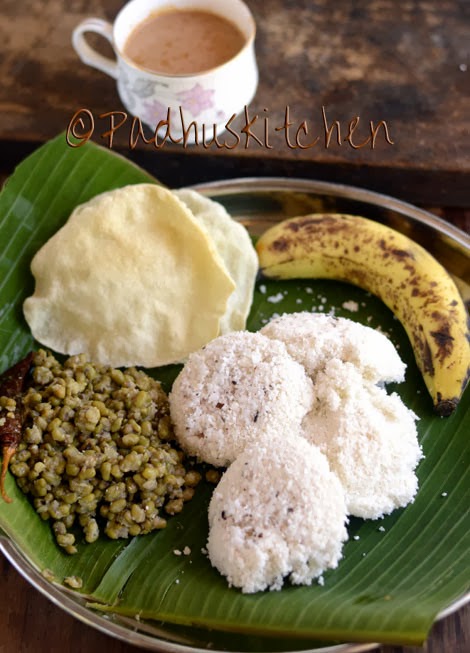 Puttu, Cherupayaru curry, pappadam
Soak green gram overnight or for 5-6 hours. Pressure cook with salt and a pinch of turmeric powder. Season the payaru with mustard seeds and red chillies. Serve with puttu and pappadam.
Hope you enjoy this detailed post on preparing puttu. Do check out my Ragi Puttu also.
If you found this post useful, I would really love it, if you pin it or share it with your Facebook fans or Twitter followers or Google+ circles today. All it takes is a simple click on the "pin it" "like," "share," "tweet," or Google+ buttons below the post. It will keep me motivated. Thank you!