Fresh orange juice is healthy, provides a variety of vitamins and minerals. I love to have some fruits or fruit juice in between my lunch and dinner, because it helps fill the stomach and satiate the slight hunger in between meals and prevents me from reaching other high calorie food. Personally I do not prefer to buy commercial juices which is mostly loaded with preservatives, artificial sweeteners, coloring and what not. Most juice available commercially is heavily processed. I love to make juice from fresh fruits. Nothing tastes better than freshly squeezed juice and we can be sure there are no added preservatives or sweeteners.Oranges are great for the skin as it is packed with antioxidants and Vitamin C. Eating oranges or drinking a glass of orange juice everyday gives a clear and glowing complexion. It also helps improve your immunity.The health benefits of oranges are many and I do not want to bore you with all that. Today we see how to make orange juice.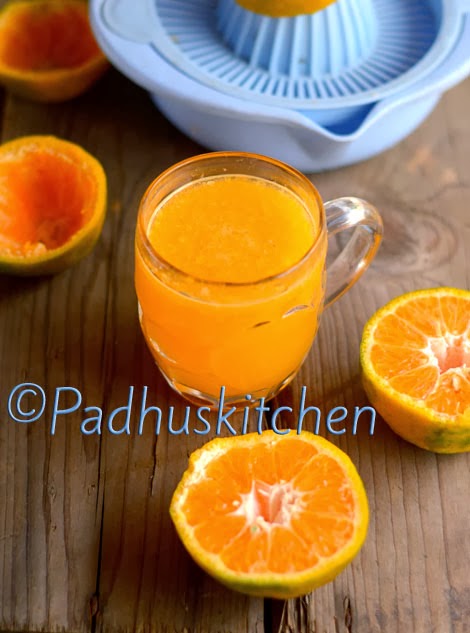 How to make Orange Juice
Prep Time
: 5
mins
|
Serves
:
1
Ingredients needed
Oranges -3
Honey -1 tsp
Water -1/4 cup
Orange juicer
Recipe Instructions
Bring the oranges to room temperature so that it will be easy for you to squeeze juice.

Cut the fruit into half and squeeze each half by hand using the plain orange juicer(shown in the picture). Add 1/4 cup of water and mix well.

Filter it and enjoy!!! I love to add a little orange pulp to my juice. If the oranges are sweet, you do not need any additional sweetener otherwise add a tsp of honey and mix well.
Check out more Juice and Milkshake Recipes.
Don't forget to hit the +1, Share button, Tweet button, Pin it button, if you like the post. You can follow us on Google Plus, Pinterest, Twitter, Facebook and Subscribe to RSS Feed to receive latest updates.