Sheer Khorma
or Sheer Khurma according to Wikipedia means milk with dates. It is a festival vermicelli pudding prepared on Eid ul-Fitr. Sheer is Persian for milk and Khurma is Persian for dates. This special dish is served on the morning of Eid day in the family after the Eid prayer, as breakfast, and throughout the day to all the visiting guests. It is prepared with whole milk, very thin vermicelli, dates, saffron and lot of nuts. Rose water or kewra essence is also added.
This recipe is from my dear friend. She has also given me the recipe for Ramadan nombu kanji which I am yet to try. For the past few days, I am having nombu kanji for dinner which my Muslim friends bring it for me as I am a big fan of it. Today we will learn how to make Sheer Khurma following this easy recipe with step wise pictures.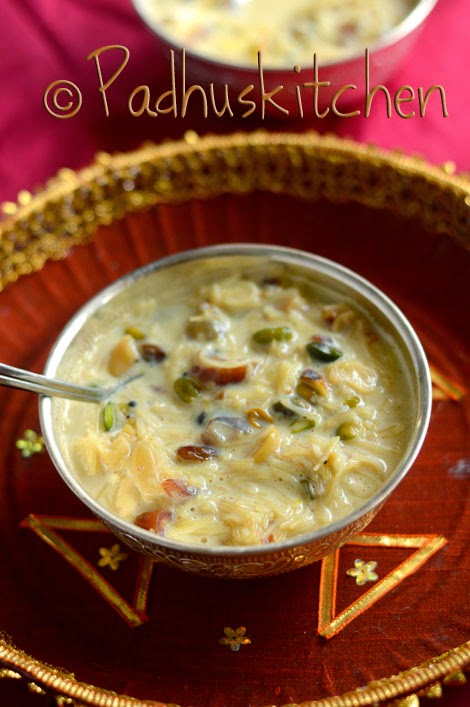 Sheer Khurma-How to make Sheer Khorma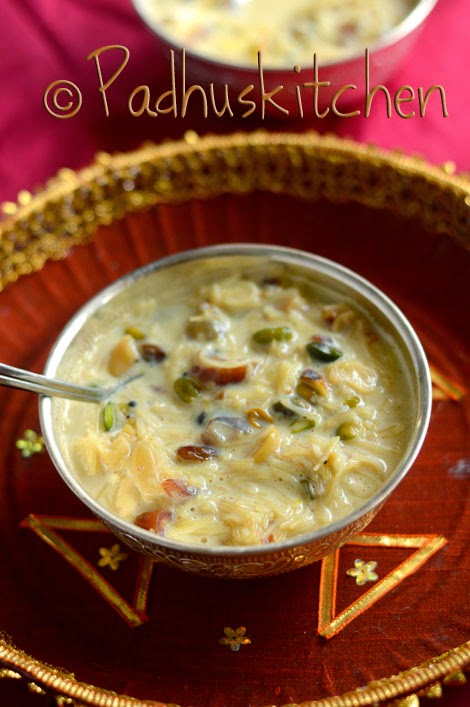 Prep Time : 10 mins
Cook Time
:
20 mins
Serves
:
2
Recipe Category
:
Dessert
Ingredients needed
Whole milk – 4 cups
Cardamom -1 crushed (optional)
Sugar -1/3 cup or as needed
Fine Vermicelli/sevaiyon -1 cup
Ghee/clarified butter -2 tbsp
Nuts and dry fruits
Pistachios – 2 tbsp
Almonds – 2 tbsp
Cashew nuts – 2 tbsp
Raisins – 2-3 tbsp
Dates – 4
Cardamom powder -1/4 tsp
Saffron-5-6 strands
Kewra essence or rose water -1/4 tsp
Preparation

Soak saffron strands in 2 tbsp of warm milk.
Chop dates and soak it in half cup of hot milk (you can take from the 4 cups of milk mentioned).
Soak almonds and pistachio in hot water for 15-20 minutes. Remove the skin and cut it thinly or into small pieces. Pat it dry.
Heat a tbsp of ghee and fry the nuts including cashew nuts for a few minutes on low flame. This is to give a nice flavor to the sheer khurma. Remove the nuts and fry the raisins (I used some dried black currants also) in the same pan until it puffs up. Remove from heat and keep it aside.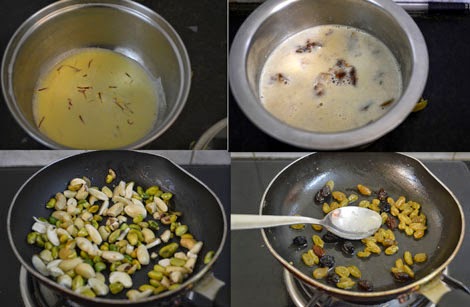 Method
Heat 1 tbsp of ghee and fry the fine vermicelli on low flame until it becomes golden brown in color. Remove from heat.
Boil milk in a pan on medium flame until it reduces a little. You can add a crushed cardamom to the milk if preferred. Keep stirring in between to prevent it from getting burnt. Discard the cardamom pod once the milk reduces.


Add sugar to the milk and cook until sugar dissolves. Add the vermicelli and cook until it becomes soft. As it is very fine, it will take just a few minutes to get cooked.

Once the vermicelli is cooked, add the dates along with the milk in which it was soaked, cardamom powder and saffron.


Then add all the nuts and raisins, cook for 2 minutes and remove from heat. Add essence and mix well.


Serve this exotic dessert hot, warm or cold. Eid Mubarak from Padhuskitchen.
Note -This dessert thickens as it cools. You can add hot milk to get the desired consistency.
Don't forget to hit the +1, Share button, Tweet button, Pin it button, if you like the post. You can follow us on Google Plus, Pinterest, Twitter, Facebook and Subscribe to RSS Feed to receive latest updates.