I have compiled few essential kitchen tips (hints) and tricks to make life easier for the novice cook.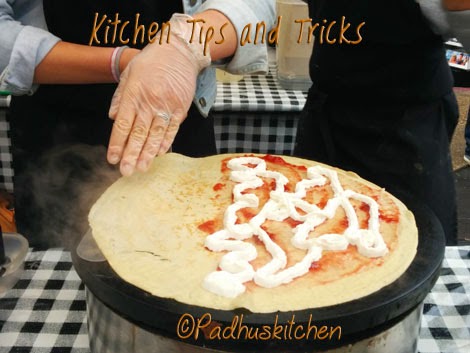 To soften butter faster – cut it into small pieces.
To make tasty filter coffee – add a little sugar to the coffee filter before adding coffee powder, then add boiling water to it.
For tasty and fluffy omelets – Add a little milk or a tbsp of water when beating eggs.
Retain the white color of cauliflower – Add a tbsp of milk while cooking cauliflower
How to preserve lemon juice – When you have excess lemons, freeze lemon juice in ice cube trays and use it whenever needed in your recipes. It stays good for 15-20 days.
To break coconut exactly into 2 equal halves – wet the coconut and draw an imaginary line around the mid riff of the coconut with your fingers and then try breaking it. You will be surprised to find the coconut in exact 2 halves. I follow this tip every time I break coconuts.
To get fluffy rice – Add a tbsp of fresh lemon juice when cooking rice to get fluffy and whiter grains.
Fried onions for biryanis, pulaos – Add a pinch of sugar while frying onions for garnishing biryanis and pulaos, so that they will brown faster.
To prevent dal from frothing – Add a tsp of oil when cooking dals to prevent it from frothing and spilling all over. Another trick is to place a wooden ladle over the top of the pan to prevent water from boiling over.
To thicken kootus and other gravies – Add rice flour or powdered fried gram (pottukadalai mavu, dalia) to thicken kootus.

To thicken gravies with onion tomato base – Grind 5-6 soaked cashew nuts or blanched almonds to a fine paste and add it to gravies. Then cook for a few minutes.
How to fix excess water in gravies – Roast 11/2 tbsp of poppy seeds and grind it to a paste. Add it to the watery gravy and boil it on medium flame.

Roast 1 tbsp of groundnuts and 1 tbsp sesame seeds, grind it to a paste and add it to thicken gravies.
To make crispier pooris – When kneading wheat flour dough for making pooris, add a tbsp of rava or a little rice flour to the wheat flour.
For crispy bhindi fry – add a tbsp of curd or lemon juice when frying the bhindis. This also prevent stickiness.
To sprout legumes – Wash and soak them overnight. The next day, rinse, drain the water and tie loosely in a cloth and keep it in a casserole. Leave it undisturbed for 10 hours. It will sprout well. You can store the sprouts in a container and use it as required.
Grinding for idli using mixie – Soak rice in hot water for 5-6 hours.
Storing leftover chapati dough – Store leftover chapati dough in the refrigerator in an airtight container after applying a little oil over it to prevent it from drying.
No more tears while chopping onions – Cut off both the ends, peel the onions and wash the onions under cold water.
To make paneer softer – Dip them in warm salt water before adding it to any gravy or curry.
To preserve ginger garlic paste for a longer duration – Add a tbsp of hot cooking oil to ginger-garlic paste, mix well and store it in the refrigerator.
Reheating leftover rice– Sprinkle water over the rice and then reheat it to get softer rice.
Extract more juice from lemons and lime – Roll lemon on the counter top before cutting and juicing to extract more juice from the lemons.

Microwaving the lemon for 15 seconds also helps. Extract juice after it cools.

To get soft chapatis – Use a little warm milk along with warm water to knead the dough.
To retain the green color of peas – Add a pinch of sugar when boiling green peas to retain their green color.
For soft pakoras – Add 2 tsp of hot oil to the batter before frying.

For crispier pakoras – Add a little cornflour to the batter.

For easy digestion – Add a pinch of hing when cooking any dal, legumes, potato or plantain dishes to aid in digestion.
If you have any cooking tips, you can share with me in the comment section. It will be useful for the other readers also.
If you found this post useful, I would really love it, if you pin it or share it with your Facebook fans or Twitter followers or Google+ circles today. All it takes is a simple click on the "pin it" "like," "share," "tweet," or Google+ buttons below the post. It will keep me motivated. Thank you!