Today I am going to share with you my homemade health mix powder or kanji maavu. Though I prepare a variety of
breakfast
for my family, my breakfast is always porridge. I made this health mix with organic ingredients bought from health store. This health mix powder or energy mix powder is very flavorful, inexpensive when prepared at home and also versatile. Versatile in the sense, you can make laddus, rotis, dosas with this health mix which I will be sharing with you all soon. When you make it at home, you know the quality of ingredients used and also you can tweak the recipe to your liking. You don't have to buy the expensive health mix at the store, make this easy and delicious, flavorful sathu mavu at home following this easy recipe.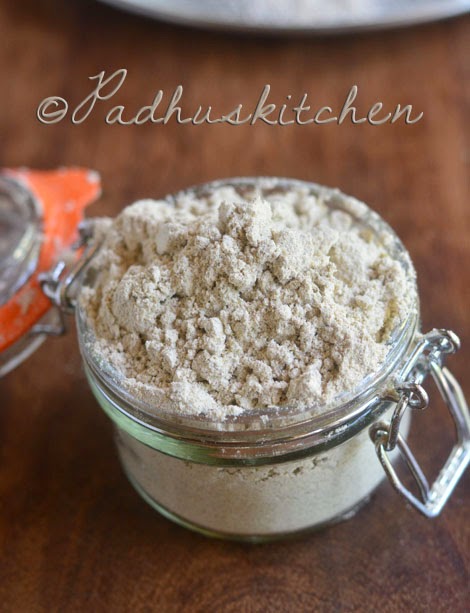 Homemade Health Mix Powder-Sathu Maavu Kanji Powder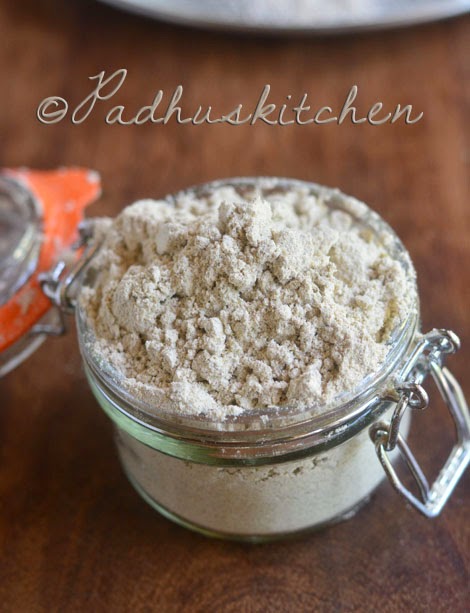 Prep Time : 10 mins
Cook Time
:
60 mins
Yields
:
3 1/2 kg
Recipe Category
:
Health Food
Recipe Cuisine
:
Indian
Author
:
Padhu Sankar
Ingredients needed
Finger millet-Ragi-1 kg
Pearl Millet-Kambu -1 kg
Green gram-Pachai Payaru -1/2 kg
Red Rice-Sigapu arisi-1/4 kg
Roasted gram-pottukadalai -1/4 kg
Foxtail millet-thinai -1/2 cup (optional)
Horse Gram-Kollu – 100 grams
Barley -100 grams
Almonds -25
Cashew nuts -10
Peanuts -100 grams
Cardamom -6
Dry ginger-sukku -1 inch piece
Preparation and Method
Clean all the ingredients. If you buy branded organic ingredients, you can skip this step as mostly it is clean and can be used as such.
Dry roast all the ingredients (except cardamom) separately until you get a nice aroma of roasted ingredients. Spread the roasted ingredients on a plate to cool. Then mix everything together.
Get it ground in a flour mill to a fine powder. Spread it on a plate to cool and then store it in an air tight container or stainless steel container. Those who are staying abroad, can prepare less quantity and dry grind it in a mixie.
Shelf Life
This powder has a self life of 3-4 months at room temperature. If kept in the freezer, it can be kept for more than 6 months.
Who can have this porridge
Porridge prepared from this health mix can be given to babies above 1 year and to people of all age groups. When giving to babies, start with 1 tsp and then increase gradually to 2 or 2 1/2 tsp. Consult your pediatrician before starting any new food for babies.
Note – Instead of red rice, you can use white par boiled rice or brown par boiled rice.
How to prepare porridge/kanji with this health mix powder
Mix 1-2 tsp of health mix powder with enough water without lumps. Cook on low flame, stirring continuously until it starts thickening. Then add needed milk and jaggery (filtered) or natural cane sugar. Your porridge/sathu maavu kanji is ready.This is the basic kanji
I love to add chopped dates, figs and a tsp of extra virgin coconut oil to my porridge. It tastes all the more delicious. Do not add all this for babies.
Savory version with buttermilk and salt
Mix 1-2 tsp of health mix powder with enough water without lumps. Cook on low flame, stirring continuously until it starts thickening. Leave it to cool. Add diluted buttermilk and salt to taste.
If you found this post useful, I would really love it, if you pin it or share it with your Facebook fans or Twitter followers or Google+ circles today. All it takes is a simple click on the "pin it" "like," "share," "tweet," or Google+ buttons below the post. It will keep me motivated. Thank you!