Sprouts are one of the most nutritious and also inexpensive food. It is a rich source of anti oxidants, vitamins, minerals, amino acids, enzymes and proteins. The anti oxidants present in sprouts helps in eliminating toxins from the body. Sprouts can be eaten raw or cooked, though I prefer to eat it raw. You can add sprouts to salads, soups, stir fry, etc. Sprouts have low glycemic index and are considered safe food for diabetics. It has disease fighting properties. According to the website
care2.com
"Sprouting increases vitamin content dramatically.This is especially true of vitamins A, B-complex, C, and E. The vitamin content of some seeds, grains, beans, or nuts increases by up to 20 times the original value within only a few days of sprouting. Research shows that during the sprouting process bean sprouts (moong beans-green gram) increase in vitamin B1 by up to 285 percent, vitamin B2 by up to 515 percent, and niacin by up to 256 percent." Sprouts are alkalizing to our body. Many illnesses including cancer have been linked to excess acidity in the body. No doubt Sprouts are called the power house of nutrition. Sprouts combined with raw vegetables and fruits further increases their nutritional value. Today we will learn how to make horse gram sprout salad following this very easy recipe.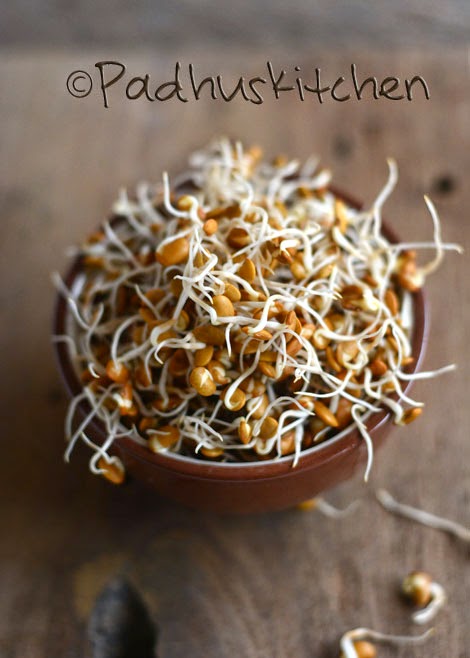 Horse Gram Sprout Salad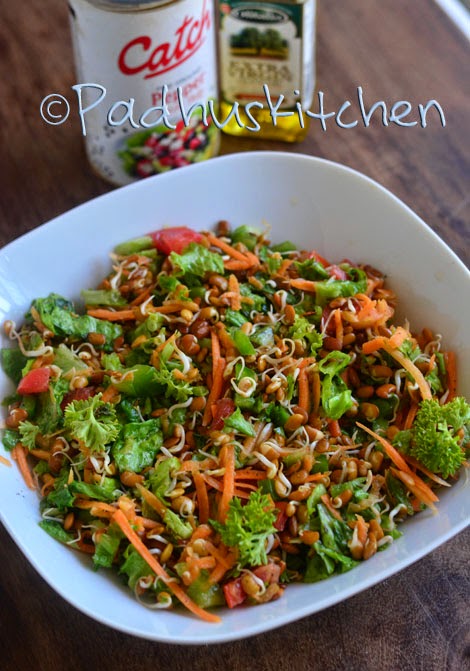 Prep Time : 10 mins
Serves
:
3-4
Recipe Category
:
Salads
Recipe Cuisine
:
Indian
Author
:
Padhu Sankar
Ingredients needed
Horse Gram Sprouts -1 cup
Tomato -1
Carrot -1
Cucumber -1
Capsicum -1
Lettuce leaves -4-5 leaves torn
Parsley or coriander leaves (finely chopped) -2 tbsp
Salad dressing
Olive oil -1 1/2 tbsp
Lemon juice to taste
Pepper powder to taste
Salt to taste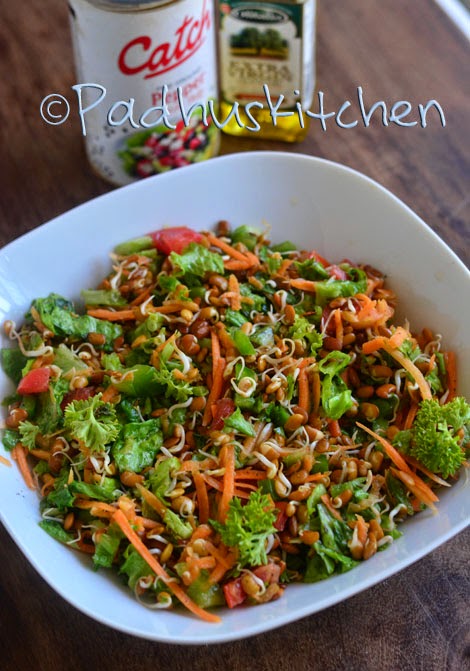 Preparation

I have done an elaborate post on how to sprout. I have given 2 ways to sprout legumes. Check the links below to find out-
Method

Chop all the vegetables finely. There are no hard and fast rules regarding the measurements. You can add more or less of any vegetables you like. Add horse gram sprouts, lettuce leaves to it.

In a small bowl mix together, olive oil, lemon juice, salt and pepper powder.

Add it to the vegetables and toss until well combined. Garnish with coriander leaves.

Stick to a sprout rich diet and feel more healthier, more energetic and more alive.
If you found this post useful, I would really love it, if you pin it or share it with your Facebook fans or Twitter followers or Google+ circles today. All it takes is a simple click on the "pin it" "like," "share," "tweet," or Google+ buttons below the post. It will keep me motivated. Thank you!