These mango yogurt popsicles are made with just 3 ingredients – greek yogurt, juicy and ripe mangoes and powdered sugar. These frozen pops make a quick and refreshing dessert or snack on a hot day. Everyone in the family will love these delicious frozen pops. Today we will how to make mango yogurt layered popsicles following this easy recipe.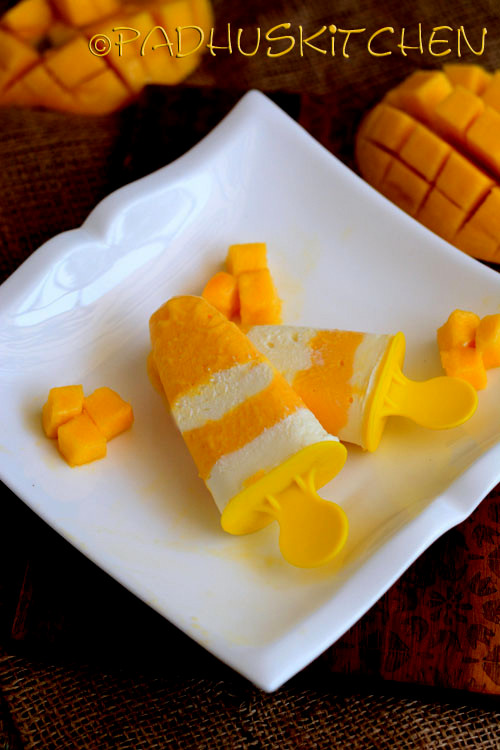 Mango Yogurt Popsicles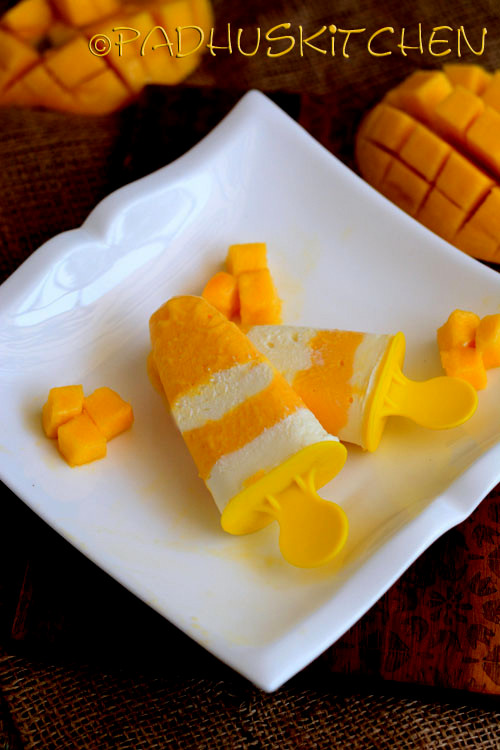 Prep Time : 10 mins (excluding freezing time)
Yields
:
5 Popsicles
Recipe Category
:
Frozen Dessert-Popsicles
Recipe Cuisine
:
Indian
Author
:
Padhu Sankar
Ingredients needed
Mango Pulp – 1/2 cup
Greek Yogurt – 1 cup (refer notes)
Powdered sugar as needed
Even if you do not have a popsicles mold, you can make these in paper cups using lollipop sticks.

Use sweet ripe mangoes for best results. I used alphonso mangoes to make these creamy mango yogurt popsicles.
Method

To make mango puree, blend mangoes without water. Mix needed sugar and keep it aside.

Mix greek yogurt until smooth using a spoon or fork. Add needed sugar and keep it aside (I added 2 1/2 tbsp of powdered sugar).

Now add 1/4 cup of greek yogurt to the mango puree and mix well.

Keep the above mango mixture and the greek yogurt inside the refrigerator for 40 minutes.


Take it out of the refrigerator. Now we will layer it in popsicle molds

Add a layer of mango mixture, then add a layer of greek yogurt. Then again a layer of mango mixture, followed by greek yogurt mixture. Continue to layer alternating between mango mixture and greek yogurt until you fill the molds.


Insert the stick and freeze for 4-5 hours or until firm (I kept it overnight).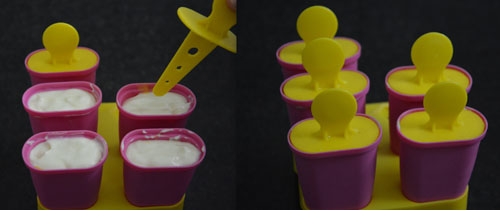 To unmould popsicles after it is set – show the outside of the popsicle mold under running water for 2-3 seconds, the popsicles will slide out easily. Enjoy!!
Notes

Greek Yogurt at home – Line a sieve with a cheese cloth or any soft clean cotton cloth (even cotton dupatta will do). Add curd into the cloth to strain the whey (water) from the curd. Let the curd sit in the strainer for an hour. You can transfer it to the refrigerator. After an hour, discard the whey, the resulting thick, creamy curd is greek yogurt. Use this thick, creamy greek yogurt to make these popsicles.
You might also like