Mango flavored popsicles are a great summer treat for kids.It is not only easy to prepare but also very healthy. It is made with fresh mangoes, milk and a little sugar. Enjoy and cool down this summer with these refreshing mango fruit popsicles!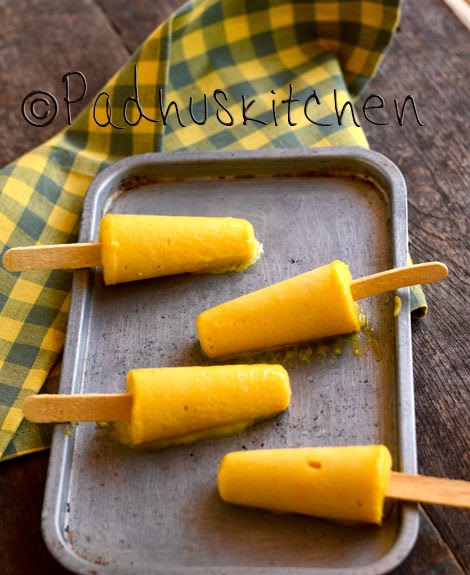 Mango Popsicle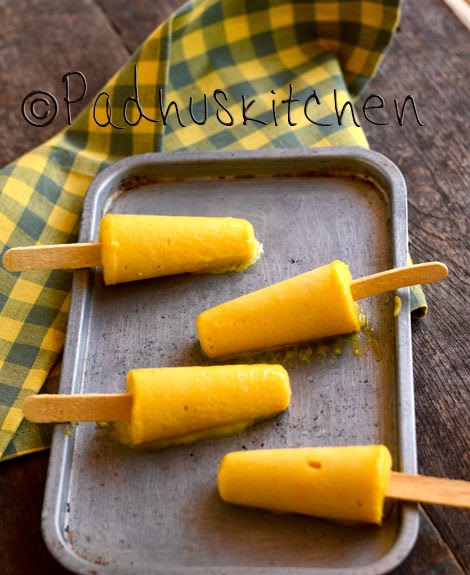 Prep Time : 10 mins
Yields: 6 Popsicles
Recipe Category: Frozen Dessert
Ingredients needed
Ripe mango- 1 cup chopped
Boiled and chilled milk -1/4 cup
Sugar/honey to taste
Popsicle mold/small paper cups
Method
Select sweet and juicy mangoes. Peel the skin and chop the mangoes.

Blend together chopped mangoes, 1/4 cup milk and sugar/honey until smooth. (if the mangoes are sweet, you don't need much sugar/honey)

Pour it into popsicle moulds, cover it and freeze until firm. If you do not have popsicle molds, you can use small paper cups. Pour the mango mixture into paper cups, when it is half set, insert ice cream sticks and freeze until firm. You can even use ice cube tray. Freeze for 1 hours, then insert tooth picks when it is partially set and then freeze until firm.
Once set, run the outside of the popsicle mold under water (room temperature) for a few seconds to loosen the mango popsicles from the mold.
Enjoy this summer with this refreshing, healthy and delicious mango popsicles.
I am sure you will love my other Mango Recipes.
Note -My popsicle mold is very small, so I got 6 popsicles.
Don't forget to hit the +1, Share button, Tweet button, Pin it button, if you like the post. You can follow us on Google Plus, Pinterest, Twitter, Facebook and Subscribe to RSS Feed to receive latest updates.