What is wheat grass? Wheat grass is the young grass of a wheat plant. Wheat grass is especially rich in chlorophyll and is loaded with many nutrients. It is also known as "Green blood" due of its high chlorophyll content. Apart from that, it has vitamin A, Vitamin B,E, K and laetrile, B17 etc. Dr.Ann Wigmore discovered the powerful healing properties of wheat grass juice – "
the richest nutritional liquid known to man
" According to 
http://hippocratesinst.org
– "Wheat grass juice is nature's finest medicine. Among other things wheat grass juice is particularly high in chlorophyll. Wheat grass cleanses and builds the blood (improves the level of hemoglobin in blood) due to its high content of chlorophyll." Wheat grass is juiced when the plant is young as it will be rich in chlorophyll at that stage and the juice will also taste a little sweet. As wheat grass juice is highly alkaline and high in nutrients, it helps in detoxification also. It has wound healing properties, improves immunity, fights infections and even benefits the digestive system. Do you know that it is easy to grow wheat grass at home. Let us see how to grow wheat grass at home with pictures.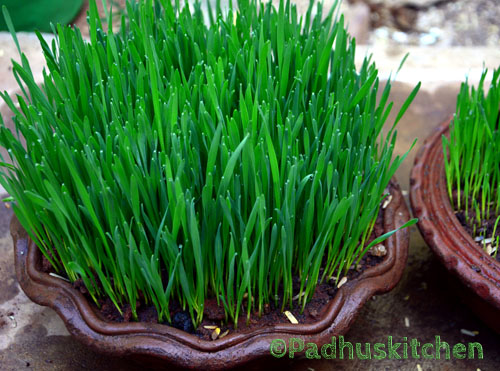 Wheat Grass Juice Nutrition-How to Grow Wheat Grass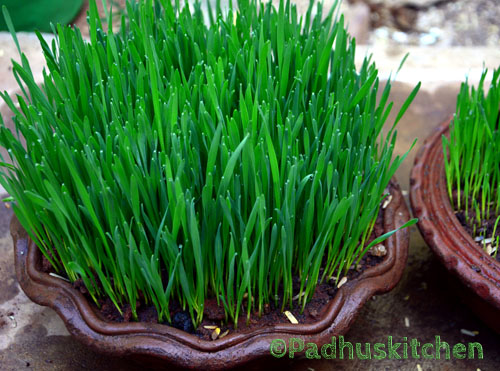 Recipe Category
: Gardening-How to
 Author
:Padhu Sankar   
Ingredients needed
   Shallow pots
   Good potting mixture
   Wheat berries – 50 – 100 grams
How to Grow Wheat Grass
Buy good quality wheat berries. (any wheat berry is fine)
Day – 1
Wash and soak wheat berries overnight or for 12-13 hours.
Day – 2
On the second day, wash it well, drain the water and tie it in a soft cotton or muslin cloth.

Day 3
You will find that the wheat berries has sprouted a little.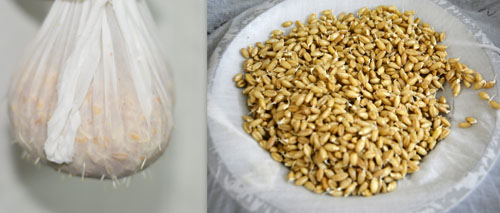 Take a shallow pot. Fill it up with a good potting mix and moisten the soil. No chemical fertilizers should be used. (see to it that the pot has holes for proper drainage of water)
Spread the sprouted wheat berries on the soil and cover it with a thin layer of the same potting mix.

Sprinkle water every day. See to it that the soil is moist and not dry or soggy. Keep the pot in partial sunlight and not under direct sunlight.
Day 8
On the 8 th day, you will find that the wheat grass would have grown about 6 inches tall. You can harvest wheat grass using a scissors by cutting it above the soil level. Do not pull the grass from its root.

After harvesting, wash it well, extract juice and should consume it immediately.
Note – If you plan to include wheat grass juice in your diet for a few days or certain period of time, you need more than one pot of seedlings growing at a time. Soak 50 grams daily, sow it everyday in a pot following the above procedure. If you do that, you can harvest wheat grass everyday to prepare juice.
After you harvest wheat grass from the first pot on the eight day, you can reuse the potting mixture  after drying it and adding more manure to it. Like that keep on rotating the pots for growing wheat grass until you need them.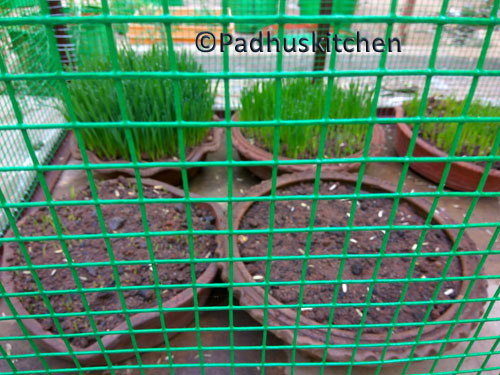 To protect and prevent birds and squirrels from eating the wheat berries.
How to extract juice from wheat grass, when to drink it, how to drink etc will all be following in a another post. Stay tuned. Thank you for visiting Padhuskitchen.