Homemade pizza sauce is so easy to make and requires very few ingredients and seasonings. It is also very economical compared to store bought pizza sauce. Moreover store bought ones are loaded with sodium and other preservatives. Another advantage is that you can add less or more of seasonings as per your taste/preferences. Today we will learn how to make pizza sauce following this easy recipe with step wise pictures.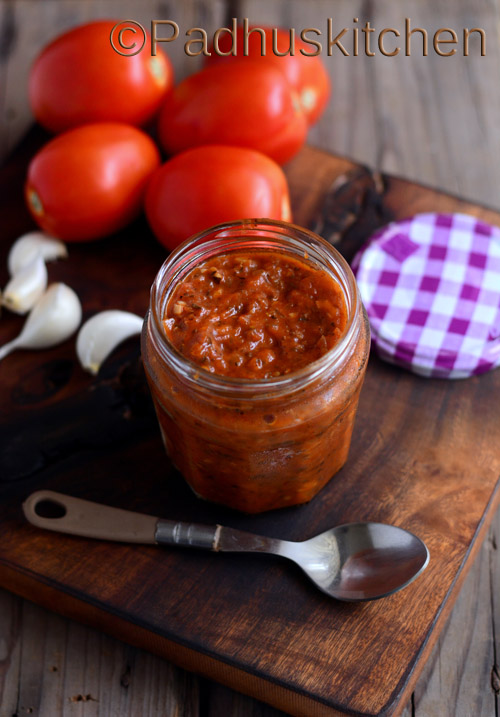 Homemade Pizza Sauce Recipe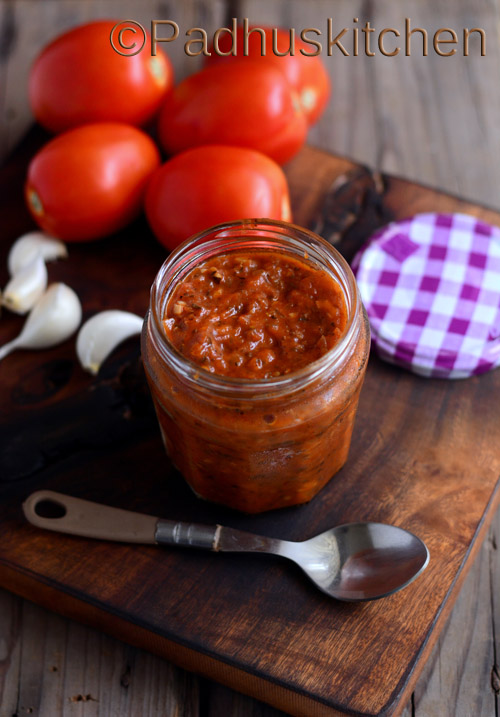 Prep Time : 10 mins
Cook Time
:
20 mins
Yields
:
3/4-1 cup
Recipe Category
:
How to-Cooking basics
Recipe Cuisine
:
International
Author
:
Padhu Sankar
Ingredients needed
Large Ripe tomatoes – 7
Olive oil – 2 1/2 tbsp
Onion – 1 medium size
Garlic – 4-5 cloves
Tomato ketchup – 2 tbsp
Dried Oregano – 1 tsp
Dried Basil – 1 tsp
Dried Thyme – 1/2 tsp
Paprika – 3/4 tsp
Sugar – 1/2 tsp
Salt to taste
Pepper powder to taste
Preparations

Finely chop onions and mince garlic.
Method

Wash tomatoes well. Make an X cut at the base of the tomatoes (see pic below).

Bring water to boil in a large pot. When water starts boiling, add the tomatoes. Let it remain for 2-3 minutes.


Remove it from hot water and drop them in a bowl of ice cold water. Then drain the water.

Peel the skin, de seed and chop 3 tomatoes finely (if there are few seeds, it does not matter) and keep it aside.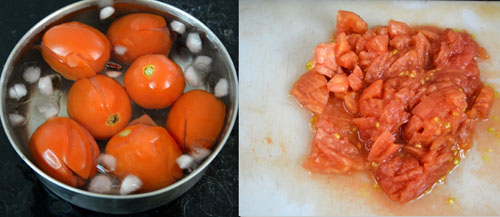 Peel the skin, de seed and blend the other 4 tomatoes.

Heat olive oil in a pan, add finely chopped onions and garlic. Saute until it turns translucent.


Add the chopped tomatoes and cook for 2 minutes. Mash it if needed.


Add the tomato puree, tomato ketchup and the seasonings (oregano, basil, thyme, paprika, sugar, pepper powder and salt to taste).


Mix well and cook simmered for 15-20 minutes stirring from time to time until the sauce thickens.


Taste and adjust seasonings as preferred. Homemade pizza sauce is ready.

Note – Adjust seasonings as per your taste. You may add chilli flakes or chilli powder instead of paprika. I have used paprika as it is less spicy compared to chilli powder or chilli flakes.

Storage and Shelf life – Homemade Pizza sauce will last for a few days in the fridge and for months in the freezer. Freeze leftover sauce in ice cube trays and then pack it in zip lock bag and freeze it.