According to
wikipedia
– Blanching is a cooking process wherein the food substance, usually a vegetable or fruit, is plunged into boiling water, removed after a brief, timed interval, and finally plunged into iced water or placed under cold running water to halt the cooking process.Today let us learn how to blanch tomatoes at home.
How to Blanch tomatoes-Tomato puree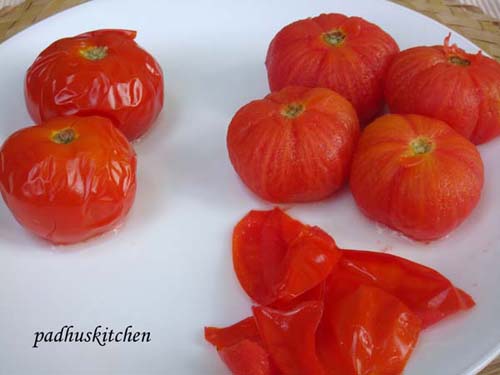 Prep Time : 5 mins
Cook Time
:
2 mins
Recipe Category
:
Basics of cooking-How to
Author
:
Padhu Sankar
Ingredients needed
Tomato – 1/2 kg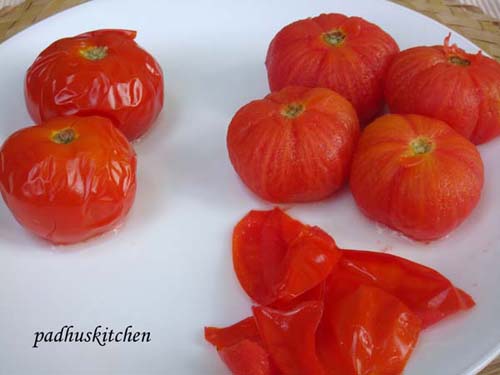 Method

Wash the tomatoes well.

Using a sharp knife, cut an "x" at the bottom of the tomatoes for easier peeling.

Bring water to boil. Place the tomatoes (Do not crowd with too much tomatoes) gently in the boiling water and cook for 2 minutes. (The time varies depending upon the size of the fruit).The smaller ones take lesser time.

After 2 minutes, switch off the heat.

Immediately remove the tomatoes with a slotted ladle and place it in cold water for 30 seconds.This is done to prevent it from getting cooked further.

Remove it from cold water and peel the skin gently. To de-seed, cut each tomato in half and scoop out the seeds. Discard the seeds.

Blend it to a puree. Tomato puree is now ready to be used for gravies, soups, sauce etc. I have used for my tomato soup, paneer butter masala and many other gravies.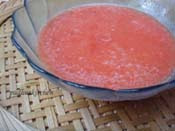 Storage and shelf life

Measure and freeze in ice cube tray, store the frozen cubes in a zip lock bag in the freezer. Stays good for 2 weeks.

Alternatively, you can also store it in clean containers in the freezer. By measuring the puree and storing it – it becomes easier to use them in recipes.
Thaw it before using it for preparing any dishes.
Meet you all with more interesting recipes, until then it is bye from Padhu.