Spinach Dal – Dal Palak – Spinach with Garlic and Lentils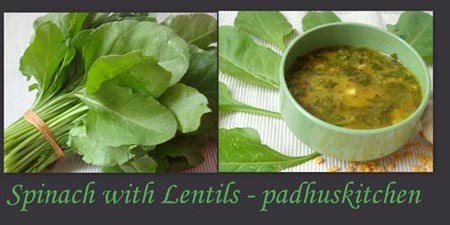 The health benefits of spinach are numerous and its ability to help prevent disease is well known. It has antioxidants which helps fight cancer. Spinach is considered a super food. Spinach and many other dark leafy greens are loaded with calcium, folic acid, iron, Vitamin K, A and C. So try to include greens in your diet regularly and pave your way to better health. This is a very tasty and comforting dish. Now to the
Spinach Dal
/
Dal Palak recipe
Ingredients needed
Spinach – 2 cups tightly packed
Onion -1 medium sized
Tomato – 1
Garlic – 5-6 cloves
Toor dal – 1/4 cup
Turmeric powder – a pinch
For the seasoning
Cumin seeds – ½ tsp
Mustard seeds – ½ tsp
Urad dal – ½ tsp
Red chillies -1 chilli broken into small pieces
Green chilli finely chopped -1
Hing/asafoetida – a pinch
Oil/Ghee – 2 tsp
Preparations
Wash spinach well, remove the stalks and chop it finely
Chop onions, garlic and tomatoes( deseed it) finely.
Pressure cook dal with turmeric powder till soft. Mash it well and keep it aside.
Cook spinach in a little water, mash it and keep it aside.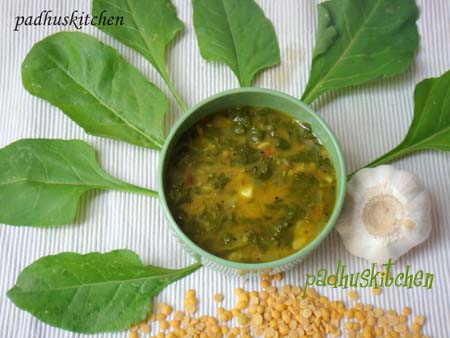 Method
Heat 2 tsp of oil and add the ingredients for seasoning.
When mustard splutters, add garlic and sauté for a few minutes.
Then add onions, sauté well till onions turn golden brown.
Then add tomatoes and cook till tomatoes turn mushy.
Add cooked dal, cooked spinach, half a cup of water and simmer for 5 minutes.
Serve hot Spinach Dal /Dal Palak with rice or roti.
Meet you all again with another interesting post, till then it is adieu from Padhu of Padhuskitchen.