Mixed Beans Recipe – Mixed Beans Gravy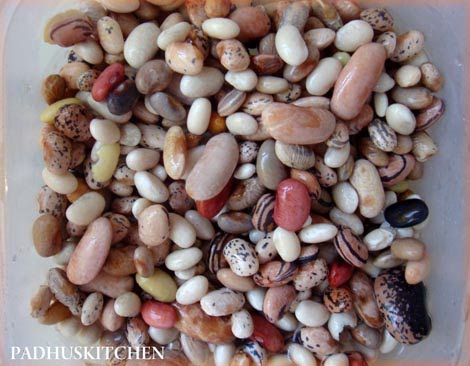 Wow! They look so colorful and lovely, isn't it?
I got a big bag full of home grown mixed beans as a gift from a friend of ours. I was so delighted.What could be a better gift for a food blogger and a health freak like me .I prepared a variety of dishes with those bean seeds ranging from soups, mixed beans rice to mixed beans gravy.I prepared Mixed Beans Rice in the same way as I prepared
Red Beans Rice
. Instead of red beans, I used mixed beans. Yesterday I prepared mixed beans gravy for
Vegetable Pulav
and I liked the combination very much .Vegetables and protein packed beans – it was a filling, tasty and a healthy meal. Now to the protein and fibre rich mixed beans gravy recipe-
Ingredients needed
Onion – 2 finely chopped
Tomatoes – 2 finely chopped
Ginger – 1 inch piece finely chopped
Garlic cloves – 4 finely chopped
Green chillie – 2 finely chopped
Mixed beans – 1/2 cup
Turmeric powder- a pinch
Salt as required
Oil – 1 1/2 tbsp
Spice Powder
Chillie Powder -1/2 tsp
Coriander Powder – 1 1/2 tsp
Jeera/Cumin Powder -1 tsp
Garam Masala Powder -1/2 tsp
For the seasoning
Cumin seeds/jeera -1 tsp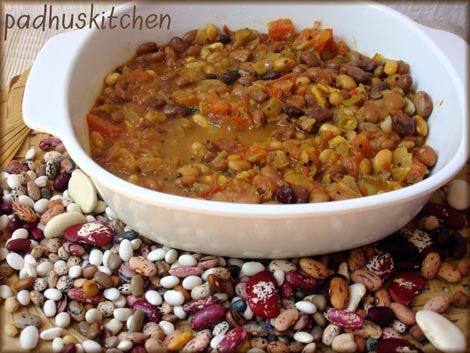 Preparation
Soak beans for 5-6 hours or overnight. Pressure cook beans with salt till soft.
Method
Heat oil, add cumin seeds, when they sizzle, add finely chopped onions and saute till they turn translucent.
Then add finely chopped chillies, ginger and garlic. Saute for some more time.
Add turmeric powder, all the spice powder and finely chopped tomatoes and cook till tomatoes become mushy.
Now add the cooked beans, needed salt, a cup of water and simmer for 6-7 minutes till everything gets mixed well. ( since we have already added salt to the beans while cooking ,add less salt now)
You can adjust the consistency of the gravy as you prefer.
You can prepare this dry also and have it hot as a tea time snack.
Give your kids when they come back from school. It is quite filling and prevent them from gorging on unhealthy food.
I am sending this recipe to My Legume Love Affair started by Susan and host at Siri's Corner.
Meet you all again with an interesting post, till then it is bye from Padhu of padhuskitchen.Take care.