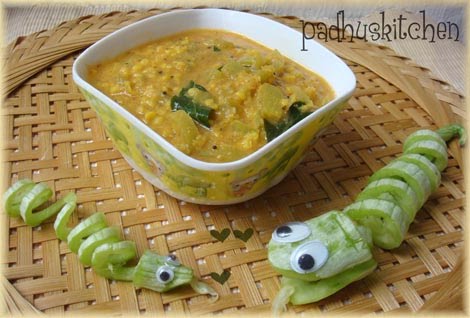 For the past 4 days, I had connectivity problem, so could not update or visit others blog.I was so restless but did so many things which I will never do, if I had net connection. Well, today I am sharing a simple South Indian kootu recipe which is very common in my house. Snake gourd is rich in fibre and helps prevent constipation.I love preparing kootu as it does not need much oil, except for seasoning. I am sure you will not regret preparing this as it tastes so good and is also very easy on the digestive system. It goes well with both rice and
roti
.Now to the Snake gourd kootu recipe-
Ingredients needed
Snake gourd -1/4 kg
Tur dal /split yellow moong dal -1/4 cup
Turmeric powder -1/4 tsp
Sambar Powder -3/4 tsp
Oil -2 tsp
For the grinding
Urad dal -1 tsp
Coriander seeds – 1 1/2 tsp
Red chillies – 2
Whole black pepper – 1/4 tsp
Grated Coconut -1/4 cup
Heat a tsp of oil and fry the above ingredients, adding coconut at the end. Grind it to a smooth paste adding little water.
For the seasoning
Mustard – 1 tsp
Urad dal -1/2 tsp
Hing/asafoetida – a pinch
Curry leaves -few leaves
Preparation
First cut snake gourd vertically and scoop out the seeds. Then
cut snake gourd into small pieces. Do not cut it finely
Cook dal till soft and mash it well. Keep it aside.
Method
Cook snake gourd in water, adding salt, turmeric powder and sambar powder till soft. Do not over cook.
Now add the cooked dal and the grounded paste and bring it to boil.
Season the kootu with the ingredients for seasoning. (ie heat oil, add mustard seeds ,when it splutters, add urad dal, hing, curry leaves and add it to the kootu.)
Other Kootu recipes which you will surely love it.
Plantain flower kootu
Ladies finger kootu
Bottle gourd kootu
Plantain stem yogurt kootu
Keerai kootu
Spinach with lentils
Meet you all with an interesting post, till then it is bye from Padhu of padhuskitchen.