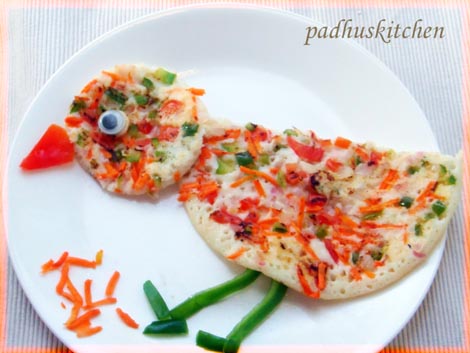 A small circle and a semi circle vegetable uthappam. Make any shape of your choice and serve it for kids.(eg)You can make a house with a square and a triangle .They will get the goodness of vegetables and at the same time learn different shapes & colors. I am sure they will enjoy!!
Now to the Vegetable Uthappam Recipe
Uthappam is a variety of dosa which is slightly thicker than dosa.I take the liberty of calling it the Indian Pizza.It is usually made with left over dosa batter.Uthappam can be served plain or with toppings of our choice.There are varieties of uttappams like vegetable uthappams ,onion uttappams , tomato uttappams etc .It is very simple,tasty,easy and quick to prepare.(provided you have dosa batter with you).The link below will tell you "How to prepare dosa batter"
Ingredients needed
Dosa batter -3 cups
Mixed vegetables –
Onion – 1 finely chopped
Tomato -1 finely chopped (remove the seeds)
Carrot grated – 3 tbsp
Capsicum finely chopped -2 tbsp
Green chillies – 3 finely chopped
Coriander leaves – very little
Sesame seed oil preferable for making uthappams.
Method
Grease your tawa with a little oil and rub it with half an onion. This is done to prevent the uthappam from sticking to the tawa.
Heat a Non stick tawa or an iron skillet, take a ladle of batter and spread it on the tawa in a circle. Uthappam should be thick as seen in the picture below.
Drizzle a tsp of oil around the uthappam .Small holes will appear on the top as it gets cooked.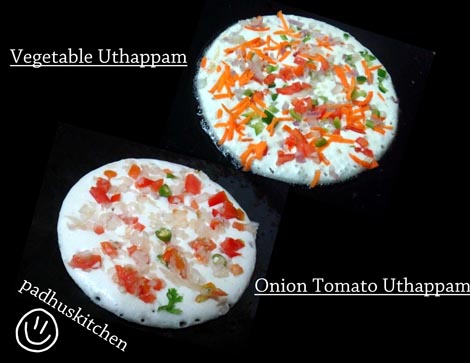 Uthappam is getting cooked
Sprinkle the finely chopped vegetables evenly on the top .
After the base is cooked (it will become golden brown in colour) flip it over to the other side .
Now drizzle a little oil around the uthappam .Let the other side also get cooked.
Serve it hot with chutney or sambar.
Note – You can add any toppings like grated paneer, grated beetroot, finely chopped mint leaves etc. I have just given a few examples, it is all left to your choice.
When I grind for idly,the first 2 days I prepare idly, the next day it is dosa ,4th day it is uthappam.
Do check out my earlier post on how to make soft idlys?
Suggested accompaniments for Uthappam
Coconut Chutney
Tomato Chutney
Coriander/Mint chutney
Idly Podi
Sambar
More Dosa varieties
Basic Dosa recipe
Wheat Dosa
Rava dosa
Moong Dal dosa
This Uthappam is on its way to Scrumptious delight from Leftovers hosted by PJ.
Meet you all again with an interesting post, till then it is bye form Padhu of padhuskitchen.