Pumpkin Curry-Pumpkin recipe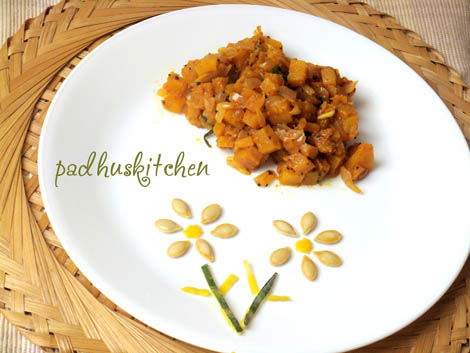 The market is flooded with pumpkins. Now that, Halloween is round the corner, many of you will be buying pumpkins. Apart from
carving
jack-o'-lantern from pumpkin or using it for decorative purpose for Halloween, pumpkin has lot to offer. This beautiful bright orange colored vegetable is loaded with
anti-oxidants and beta-carotene.
It is an excellent source of fiber and also a good source of vitamin E and vitamin C. It is
low in fat
,what more do you want. Rush to the market to buy pumpkins and prepare this simple pumpkin curry or pumpkin sabji which tastes great with both chapatti and rice.
Ingredients needed
Pumpkin – 4 cups cubed
Onion – 2 big
Sambar powder – 3 tsp
Tamarind – small gooseberry size
Turmeric powder – a pinch
Salt as required
Oil -1 tbsp
For the seasoning
Mustard -1 tsp
Urad dal -1/2 tsp
Hing – a pinch
Red chillies -1
Curry leaves – little (optional)
Preparation
Soak tamarind in warm water for 20 minutes and extract 2 cups of juice. Throw the pulp.
Peel the skin, remove the seeds (you can use the seeds to make pumpkin seeds podi which I will post later) and cut it into cubes.
Peel and cut onions.
Method
Cook pumpkin in tamarind water, adding salt and turmeric powder.
After it is cooked (do not over cook it ) drain the water if any.
Heat oil in a pan, add mustard seeds, when they sputter, add other ingredients for seasoning, then add onions, curry leaves and fry till onions turn golden brown.
Then add cooked pumpkin, sambar powder and salt needed.(note- we have already added salt to the pumpkin while cooking, so add less)
Simmer and cook for another 6-7 minutes stirring inbetween. Serve with roti, chappati or steamed rice.
This curry will not be sweet as we are cooking it in tamarind water.
This recipe serves 4.
Meet you all again with an interesting post, till then it is bye from Padhu of padhuskitchen