Dhansak is a very popular dish among the Parsi community in India. Usually Parsis make Dhansak with mutton but this is a vegetarian dhansak .I do not know whether this is an authentic recipe or not but do know that it is a very tasty dish. My family loves this dish very much. I saw this on a TV show long time back, loved it very much. It has the goodness of greens, lentils and vegetables and goes well with pulao, rice, chapati and paratha, so wanted to share it with you all .Now to the Dhansak recipe –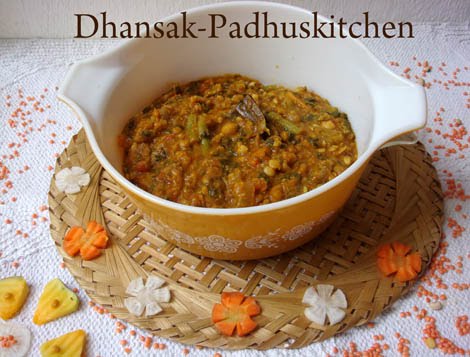 How to prepare Dhansak
Serves -5-6
Ingredients needed
Onion -2 (finely chopped)
Tomato -3 Big and juicy ones
Ginger -1 inch piece
Garlic – 3 cloves
Green chilli – 1
Salt as required
Spice Powder
Turmeric Powder – 1/4 tsp
Chilli Powder – 1 1/2 tsp
Coriander powder – 1 tbsp
Garam Masala – 1 tsp
Lentils
Tur Dal – 1 1/2 tbsp
Moong dal /split green gram – 1 1/2 tbsp
Masoor dal – 1 1/2 tbsp
Channa dal /Bengal gram – 1 1/2 tbsp
Urad dal – 1 1/2 tbsp
Black eye pea – 1 1/2 tbsp
Fresh or dry field beans (Mochai)- 1 1/2 tbsp
Garbanzo beans (kabuli channa,kondai kadalai) – 1 1/2 tbsp
Vegetables
Carrot -1
Beans -4-5
Potato – 1
Radish – 1
Pumpkin – 1/3 cup
Ash gourd – 1/3 cup
There are no hard and fast rules. You can add less or more of any vegetables but pumpkin is a must for this recipe.
Greens
Fenugreek leaves /Methi – handful
Mint leaves – handful
Spinach leaves – handful
Coriander leaves -handful
For the Dhansak Masala
Cumin seeds – 1 tsp
Whole black Pepper -1/2 tsp
Coriander seeds -1 tsp
Red chilli -1
Sesame seeds – 1/4 tsp
Fennel seeds ( Sombu)- 1/2 tsp
Dry roast everything separately and grind it adding little water.Keep it aside.
For the seasoning
Oil – 2 tbsp
Fennel seeds – 1 tsp
Bay leaf -1
Now do not get intimidated by the long list of ingredients above. Actually the preparation is very simple.
Preparation
Grind green chilli, ginger and garlic to a fine paste.(g-g-g) Keep it aside.
Soak black eyed pea, channa and field beans overnight. This step is needed only if you are using dried ones.
Wash and chop vegetables and greens. Keep aside.
Soak all the lentils/dal for 20 minutes in hot water so that they will get cooked faster and energy is also saved.
Puree tomatoes in a blender.
Method
Pressure cook all the lentils, greens and vegetables with little water for 4 whistles and keep it aside.
Heat oil and add fennel seeds, bay leaf, when fennel sizzles, add finely chopped onions and saute till it turns brown stirring continuously.
Add ginger garlic and chilli paste and saute for some more time.
Add tomato puree,dhansak masala and all the spice powder. Cook till oil separates.
Then add the pressure cooked vegetables+lentils mix, needed salt and little water.
Cook for a few minutes until everything gets blended well.

Serve hot with pulao or any Indian bread.

Meet you all again with another interesting recipe, till then it is bye from Padhu of Padhuskitchen.