Chocolate chip cookies is a very popular recipe and this had been in my list to do for a long time. Since my children love anything chocolaty,I baked these chocolate chocolate chip cookies for them.This is a very simple recipe and the cookies turned out very delicious. If you want egg less version, then this recipe is a keeper.

Eggless Chocolate Chocolate Chip Cookies
Yields -20 cookies
Recipe source -Chellam Gopalakrishnan
(I have made slight changes)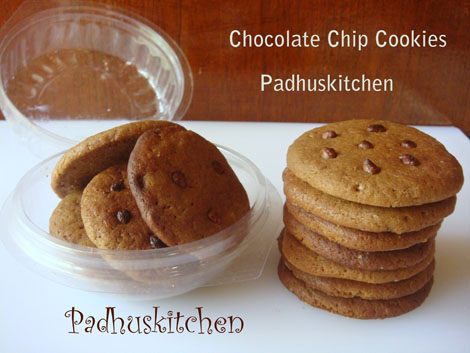 Ingredients needed
All purpose flour (Maida) -180 grams
Baking Powder -1 tsp
Brown Sugar -90 grams (dark brown sugar)
Butter – 90 grams (Salted)
Cinnamon Powder -a pinch
Milk -4- 5 tbsp
Chocolate chips -40 grams and few for decorating the cookies
Vanilla or Chocolate essence – 2 tsp
Preparation
Sieve Maida with baking powder 2 times.
Preheat the oven.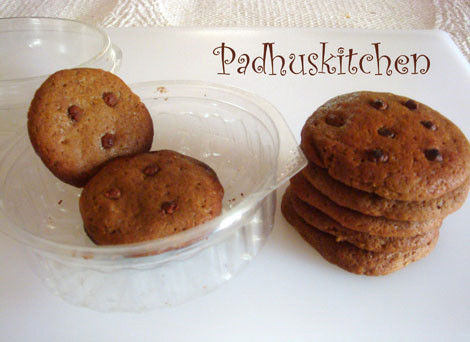 Method
Beat together butter and sugar well till sugar dissolves.
Add cinnamon powder, essence and hot milk. Mix well.
Melt chocolate chips a little by double boiling. Add it to the above mixture.
Add maida and mix well gently.
Shape the dough into small balls and press it flat slightly. Press chocolate chips on the top.
Place them on a greased baking tray 2 inches apart as dough spread while cooking and bake till golden brown. (See picture)
Remove from the oven and leave it to cool. Enjoy!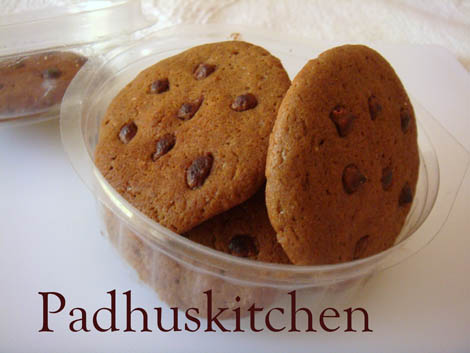 The cookie is chewy in the center and crispy around the edges. If you want it crispy, bake for a few more minutes.
For Plain Chocolate chip cookies
For Plain chocolate chip cookies, just mix chocolate chips to the sieved maida (All purpose flour) and proceed as in the recipe.
Do not melt chocolate chips for plain chocolate chip cookies.Hope I have made it clear.
Note – All the ingredients should be at room temperature. Also use fresh ingredients for best results.
I love Chellam aunty's baking recipes as they never let me down.I have already tried her banana muffins and Walnut Brownies recipe and they have turned out very well.
Meet you all again with another interesting recipe, till then it is bye from Padhu of Padhuskitchen.com